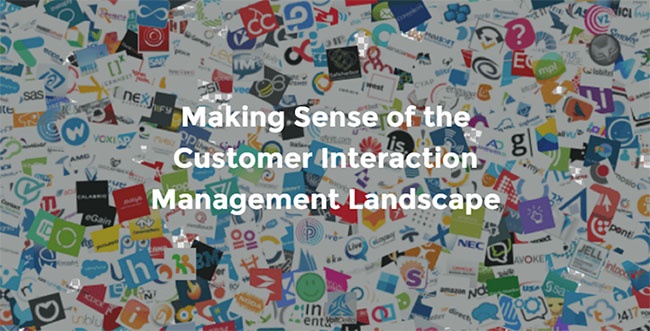 The customer economy has propelled the customer experience and the digital transformation to the top of enterprise's agendas. It is transforming contact centers and customer service into a much broader industry to manage proactively customer interactions. Together with marketing and sales technologies, it now forms a three-legged stool for enterprises to create unique systems of engagement with their customers. Salesforce embraced this transition a couple of years ago by urging enterprises to become "Customer Companies" and I cannot find a better place than Dreamforce to start your exploration of all these technologies.
The past 12 months have also seen Salesforce upping its game in Customer Service and it shows: more than 4,000 hours of sessions will be dedicated to the topic. Salesforce intends to showcase with its partners ecosystem the emergence of a new paradigm turning the old Customer Interaction Management (CIM) metaphor into reality. This unprecedented level of excitement from one of the major software provider illustrates:
How large the industry has become with more than 450 companies and an estimated 100,000 employees,
How important and strategic interaction management has become to enterprises and their digital transformation, and
How much US$ 5 billion invested in the last five years have fueled innovation and enabled the formation of new market categories.
Dreamforce visitors walking the aisles of the show will have a unique opportunity to seize the Interaction Management space. Attendees will want to understand what is happening aside from the consolidation of a few segments like large Contact Centers, which have grabbed most of the attention lately. In this spirit, let me offer a map to this market and its diverse technology segments.

Self-service is the new front-door
In 2015, Forrester found that web and mobile self-service overtook all other interaction channels.
Voice self-service with Interactive Voice Response (IVR) continues to play an major role. Alas, it also remains a top source of consumer frustration and investments continue to be made to modernize platforms and applications. Despite IVRs being integrated into most Contact Center solutions, dedicated offerings have remained. They provide cloud additions to existing Contact Centers. The category also includes tools providers aiming at reducing the complexity of application development or adding visual experiences for smart phone users.
The expansion of self-service is actually driven by knowledge management, virtual agents, and intelligent bots. Continued improvements in knowledge management technologies have simplified consumer access to the numerous—internal and external—sources of information. They also reduced the historical complexity of building taxonomies and managing content. Virtual agents and intelligent bots combine Artificial Intelligence (AI) with conversational interfaces and promise to redefine the self-service experience. They figure out interactively what consumers want using text or speech, find the right responses, and escalate inquiries to a person when they cannot. I have covered these technologies with my friends from Opus Research in our Intelligent Assistance landscape.
Taming interaction channels
While self-service has become the preferred way for consumers to contact enterprises, human interactions remain crucial as noted by Dimension Data in its latest benchmark report. Indeed, with routine customer service requests deflected to self-service, the bar of expectations for in-person conversations was raised dramatically.
Customers demand to be connected to qualified customer service representatives who know the full context of their inquiries. They expect access to a broad array of communication options and to be able to choose the most convenient for them in the moment. The number of touch points has kept on growing. Voice, emails, and chat are table stakes. Social, mobile, and in-app have been maturing. Messaging and video are now emerging. Consumers no longer tolerate to waste their time on hold or waiting for answers. It is paving the way to a new style of omnichannel communications, with short interactions that can be resumed at any time and on any channel when needed and form a continuous conversation.
Each new channel has been bringing a slew of new players with, over time, consolidation taking place. Many participants support multiple channels and are shifting their focus on enabling omnichannel interactions. They can be grouped into Contact Center and Digital Customer Service depending on their legacy. What surprised me, is the large number of channel specialists. It suggests that usability and purpose-fit remain essential.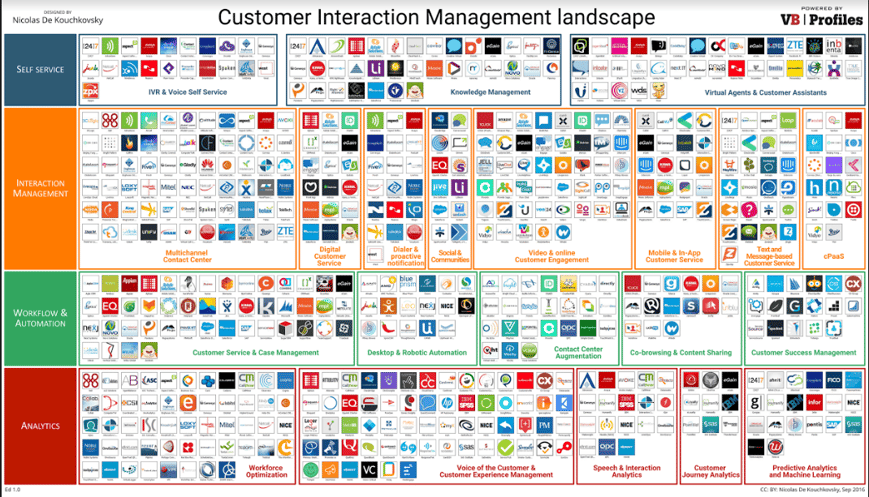 The expanding role of workflow and automation
Contact centers have always been used in conjunction with customer service applications for managing cases and trouble tickets. As we discussed in a previous LinkedIn post, the boundaries between these two categories are disappearing and we should expect integrated offers gaining traction, in particular in the low-end of the market. In the high-end of the market, many enterprises use more than one system of record. Customer service representatives have to access many applications and juggling them has always been a huge pain point. Desktop integration, scripting, and guided conversation solutions have provided partial relief by federating multiple applications onto agent desktops. They are making way to a new generation of tools in an emerging Robotic Automation category aiming at further simplifying the work of agents and automating fulfillment tasks.
The subscription economy is having customer care fork in two functions, customer service responsible for handling issues and customer success in charge of proactively driving adoption and usage. It created another category, Customer Success Management looking to become the system of record for subscription usage and providing analytics for retention, renewals, and upsell.
There is eventually a blossoming set of augmentation technologies. The word augmentation here should not be read as having an incremental impact but as being easy additions to existing deployments. The category includes diverse innovative solutions. Some such as co-browsing and content sharing have graduated as mini categories while others are emerging and don't have yet enough players to form their own. Examples include callback, on-demand customer care, gaming, or testing.
Analytics to the rescue
Analytics have always played an important role in the metrics-driven contact center space. Traditional agent-centric tools, —Quality Management, Workforce Management, and Performance Management—have been mostly merged under the Workforce Optimization category. Despite being dominated by two vendors, I could identify 50 companies in the category. Many have developed specific know-how as important if not more than providing a long list of features.
All enterprises made customer experience a strategic imperative. For many, the first step was to gather customer feedback. It created a large Voice of the Customer (VoC) and Customer Experience Management (CEM) market category. These solutions are augmented with interaction analytics providing insights on what really happened during the interactions and customer journey analytics mapping the various steps and interactions customers are going through to accomplish something.
If customer experience tops the corporate agenda, marching orders for most customer service organizations continue to focus on cost reduction. Contact centers are most often measured using time and activity metrics such as Average Handling Time (AHT) and First Call Resolution (FCR). There is little appreciation for the actual context and outcomes of customer interactions. This is hard for these departments: self-service is filtering out simple interactions and leaving them with the most complicated ones. They are squeezed between the need to improve its operational efficiency and the mandate to better the customer experience. So, these organizations are looking into predictive technologies to find ways to accommodate the two. This emerging category includes traditional recommendation and decisioning applications, and new predictive and machine learning solutions optimizing the matching of callers to agents and the response process.
The last few years have seen interconnected organizations linking their digital presence, contact centers, and customer service become a reality. What this means is the creation of a new industry—Customer Interaction Management—rapidly growing into the third leg of the new CRM "stool". This transformation is equivalent in magnitude and importance to the ones that have taken place in the marketing and sales domains. New categories have emerged and no doubt that you will see several examples at Dreamforce.