No Provider, No Problem
Four years ago, Pommie Lutchman, CEO of Ocular Technologies, was at a conference, contemplating a cloud-based CX software platform that would meet the demand in the 5–500 seat Southern African contact center market. He quickly realized that the landscape was barren—limited options with no vision or direction for the future. "When we initially looked for a cloud-based partner in Africa, there was nothing available on the entire continent…but it was such a brilliant solution," Jay Lutchman, CTO of Ocular Technologies recalled. In an emerging market like Africa, it was a challenge. But with Ocular Technologies, facing adversity is something it has always approached head-on.
New Market Using New Technology
Being the first to market, Ocular Technologies found there were a few bumps in the road initially. Adoption was slow, but with a new pricing strategy and help from a local reseller, its cloud-based contact center took off and the company is now averaging a new client every two weeks.
Ocular Technologies' clients benefit from a robust customer contact center provider—providing traditional omnichannel solutions—but Ocular Technologies is also on the forefront of new innovations. With an agile mind-set and cutting-edge tools like IBM Watson and HD video, Ocular Technologies is working to provide clients with a real-time look at customer environments and translate physical cues into actionable tasks.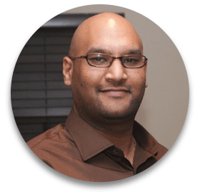 "A customer may go into a bank and put up their hands in frustration. Using AI, we can analyze the body language, and if needed, use the Bright Pattern platform to send a supervisor to handle what may be a difficult situation," explains Lutchman.
Better Communication with Bright Pattern
As Ocular Technologies continued to provide world-class service for its clients, it noticed a glaring issue when communicating with the platform's third-party vendor. With the white-labeled provider, there were many layers to go through before getting the information needed. Understanding that this communication breakdown was hindering growth, Ocular Technologies decided to make the switch directly to Bright Pattern in late 2017.
"It was a very smooth transition," explained Lutchman, adding, "We worked very well with Ivan [Malyshkin, Director of Business Development at Bright Pattern] and the team."
By working directly with Bright Pattern, the lines of communication opened up and the information moved much more freely and quickly. For a company working halfway around the globe, this transparency and ease of information is key to Ocular Technologies' success.
Creating the Future, Today
By using Bright Pattern's rapidly expanding platform, Ocular Technologies is working on advancements in CX that will make the contact center much more efficient. One area of focus is speech analytics.
Speech analytics uses AI to scrub data and keywords from thousands of calls and create patterns to better understand the customer. Using this data, Ocular Technologies can determine if customers are satisfied with their experience and in what areas they need to improve. Whereas an entire QA team can analyze about 1% of the calls, automated speech analysis can evaluate 100% of all contacts. By adding this functionality as an overlay to the existing Bright Pattern offering, Ocular Technologies is able to provide rich speech and text data and analytics from transactions that are routed through the platform.
Another revolutionary CX application where Ocular is changing the game is the use of pizza bots.
Pizza bots?
Pizza bots are not some next level robotic dough tossers, but instead a way to speed up the ordering process using AI and social media. Essentially, a customer can sign in to Facebook Messenger, type an emoji (🍕), and get the pizza delivered. Ocular Technologies uses IBM Watson AI and integrates with Bright Pattern Contact Center so that the interaction can be escalated to other channels or a live representative if necessary or preferred by the customer.
Ocular Technologies will continue to serve its clients as a world-class customer contact center. However, Ocular Technologies understands that the future is all about AI—less human interaction and more machine interaction.
"We don't want to get rid of the agents...we just want to make their lives easier," Lutchman exclaimed.