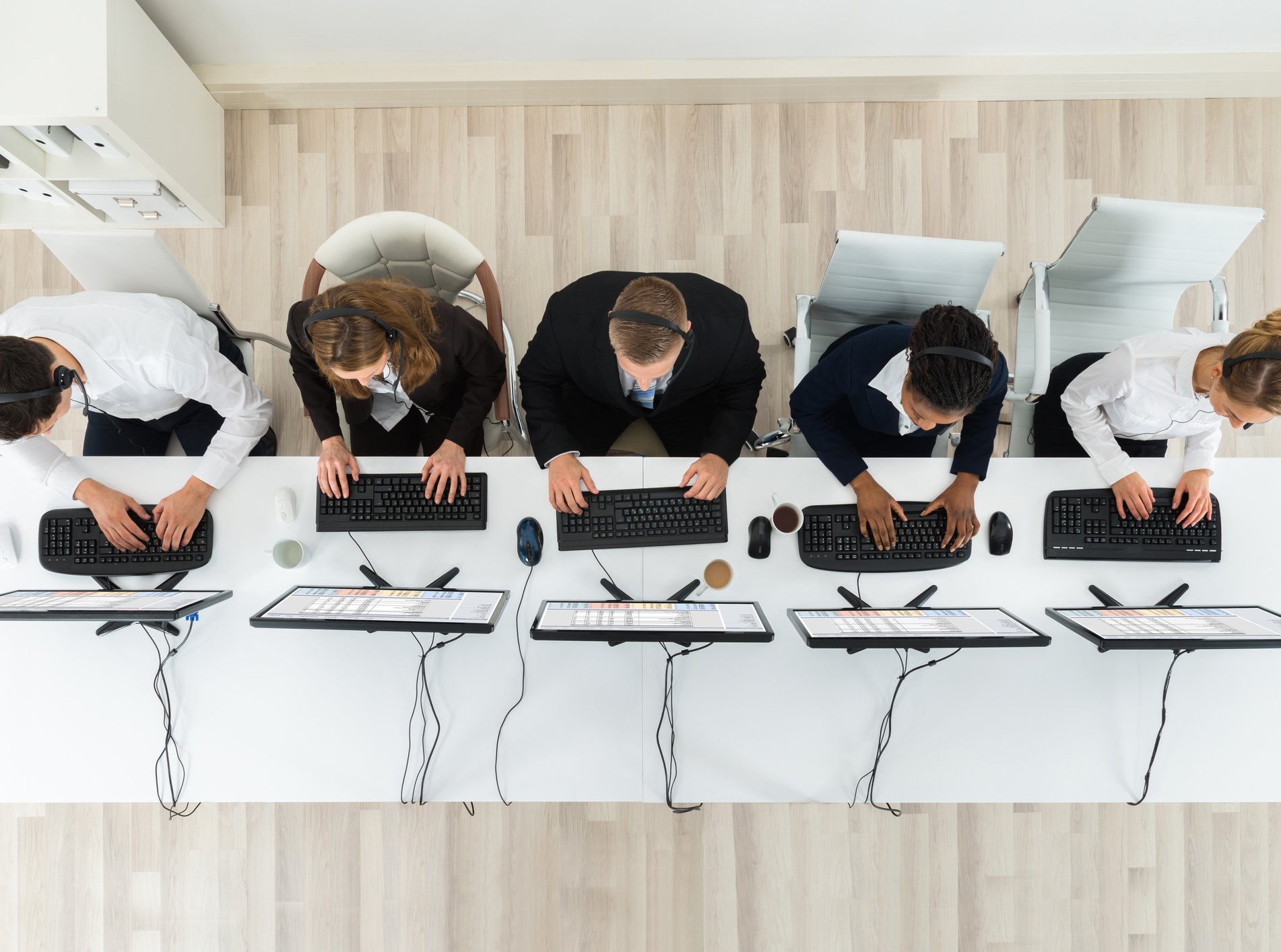 People tend to use the terms "call center" and "contact center" interchangeably, which causes confusion in our modern world of customer communications and—understandably—adds complexity to the call center vs. contact center debate. There is a difference though. To help explain it, we will do a deep dive into the types customer interactions that can be facilitated by call centers and contact centers.
Call Center vs. Contact Center: What Is a Contact Center?
A contact center offering multiple channels for communication can provide companies with many advantages, including empowered call center agents, decreased average handle time (AHT), fewer agents needed and reduction in labor expenses, and increased call center customer satisfaction ratings (CSAT).
Contact centers allow companies to provide multichannel and omnichannel communications to customers. Omnichannel support gives customers the opportunity to contact their favorite brands over their preferred channel. With the emergence of video, in-app, and social media, people are conducting conversations with friends and family over more channels and have come to expect seamless communication between channels.
For example, while at work you may prefer to text a friend about meeting up later for dinner, during lunch when you are more available to talk and want to speed up the conversation, you call her to confirm plans, and then after work on your way to the restaurant you might send a Snapchat or Facebook Messenger video message to let her know you are on the way. Because people have this seamless omnichannel communication style in their personal lives, they are beginning to demand it of companies as well.
Call Center vs. Contact Center: What Is a Call Center?
What is the major difference between a call center and contact center?
When considering the call center vs. contact center, the primary difference is that a traditional call center focuses only on inbound and outbound voice calls over the phone, whereas a contact center has the ability to interact with customers over a variety of channels, including traditional channels like inbound and outbound voice, email, and chat, as well as innovative and emerging channels like SMS/text, video, bots, in-app, and social messengers.
Let's take a more in-depth look at some of the key features of a call center.
Inbound Voice
Although contact centers with multichannel or omnichannel communications are more common than call centers with inbound and outbound voice only, inbound voice calls are still a primary channel that customers use to contact companies. For inbound voice call management, it is important to have features like call transcription, dropped call conversation continuity, virtual queue with callback options, and pre-recorded message playback.
Virtual Queue with callback is a great feature to improve customer satisfaction and decrease AHT. It gives customers calling your call center the option to leave a callback number so they can hang up the phone and get a callback from a customer service rep when they are next in queue. Customers will never have to wait on hold again! You will also experience fewer dropped calls out of waiting time frustrations.
Routing
Routing is an important feature in a call center that allows traditional calls to be automatically distributed among your call center representatives. There are many different routing options that can make call center operations more efficient.
Skills-based routing is a common function that allows call center management to set up distribution rules that get incoming calls to the most appropriate call center agent. For example, if you are operating a multilingual call center, you can set up skills-based routing for call center agents and the languages they can speak. Spanish-speaking customers will automatically be routed to Spanish-speaking customer service representatives. You can also set up skills-based routing for different types of questions (i.e., calling about a bill versus calling to set up an account).
Call centers can also set up priority routing options for certain call center customer segments. If you have preferred customers that need to be routed to more experienced call center customer service representatives with shorter wait times, all of this can be set up with automated routing.
With some call center routing technology, you can also set up personal routing. When a customer is calling in for a second time, the system will recognize the customer contact information from your case management system or customer relationship management (CRM) software, and route them to the same agent they were talking to previously if the call center agent is currently available.
Outbound Voice
If you are operating a blended voice call center, not only are you taking inbound calls, but agents are conducting outbound calls as well. Outbound calls are primarily for sales purposes but also can be used for customer support, such as with the virtual queue callback option mentioned previously. Call center technology for outbound voice has different dialing modes available, including predictive, preview, progressive, automatic (IVR), and manual dialing.
The different dialing modes offer different features that can make outbound dialing campaigns more efficient. For example, with progressive and predictive dialing modes, the system automatically dials numbers for your prospect list, monitors progress, and only connects call center agents when a human picks up the phone. This can save call centers a lot of time compared to manually dialing telephone numbers. For more information on dialing modes, click here. Other outbound dialer features include list sorting and filtering, dynamic caller ID assignment, call progress analysis, and answering machine detection.
IVR
Interactive Voice Response, commonly known as IVR, is a self-service channel that customers can use when calling into a call center. The IVR asks the caller questions or offers menu options in order to get information for either routing the call to the correct customer service agent or team, or completely handle routine customer inquiries. For example, if you call into your bank, the IVR might start by asking identification questions like your account number or social security number. It then might ask your reason for calling in. If you are calling in for a routine reason, such as for checking your account balance, the IVR should be able to handle the customer issue completely. If the interaction is more difficult or if the customer would prefer to talk to a call center agent, the IVR will route them accordingly.
A conversational IVR can be implemented into a call center using artificial intelligence (AI), machine learning, Natural Language Understanding (NLU), Natural Language Processing (NLP), and speech-to-text technologies. When interacting with a conversational IVR, instead of saying or typing in a number in response to the IVR menu options, customers can talk as they normally would, in turn improving customer experiences.
Call Center vs. Contact Center: What Is a Contact Center?
Because modern contact centers have additional channels, there are more features within omnichannel technology. Let's take a more in-depth look at some of the key features of a call center.
Omnichannel ACD and Routing
When you are operating a contact center with multiple channels, you need to have an omnichannel Automatic Call Distributor (ACD) where phone calls and other channel interactions are routed to the correct team or agent. Some contact centers have different teams working on different channels, so proper routing and prioritization becomes very important.
An omnichannel ACD built on Bright Pattern's omnichannel capacity model, for example, helps companies to prioritize based on channel type and also allows agents to handle interactions over more than one channel at a time. For example, rules can be set so that an agent can handle up to four chat interactions, two email interactions, and one voice interaction at a time before reaching full capacity. This benefits contact centers because agents are not limited to a specific channel, which can create dead time in between interactions. It also increases agent engagement, as agents are not confined to a single channel.
Email Handling
Email is often the second channel a company adds to its channel mix. It is important to make sure when adding in new channels that they work seamlessly with your existing voice channel. Email handling contact center software features include push and pull distribution modes, service level management, keyword and sentiment routing, automatic case creation and tracking, follow-up queue, and a built-in knowledge base.
Web Chat
Web chat is another common channel that companies like to add when creating a multichannel or omnichannel contact center. With more customers accessing self-service sites via the computer or mobile phone before reaching out to companies, web chat offers a convenient way to escalate from self-service to talking with a call center agent without changing devices. Most industries, including retail, financial, and travel, understand the importance of offering live web chat on their website. Web chat contact center features include point-and-click widget configuration, proactive chat, response timer, web notifications, co-browsing, voice and video escalation, bots, and AI.
Point-and-click chat widget configuration allows companies to easily set up the chat widget on their website. A widget should match website branding, so it is important to have a customizable web chat tool with different color and text options.
Like email, web chat also should have a knowledge base for the agents to access with suggested responses. Web chat eliminates customer waiting time, as chat is thought to be a more immediate path to conversation.
Social Messaging Apps
Companies are beginning to focus more on mobile apps, social listening, and social messengers for communicating with their customers. Although social channels have been traditionally handled by the marketing department, more companies are creating teams of social media agents to handle customer interactions that come in through social networks. Social networks include but are not limited to Facebook, Viber, LINE, and Telegram. Social messenger contact center software features include location sharing, accurate identification, media and file sharing, point-and-click channel enablement, bots, and AI.
SMS
SMS, also known as text messaging, is part of your customers' everyday communication. Texting can be a convenient way to interact with your customer when sending out reminders or sending additional information to a customer after a phone conversation. Businesses will typically use SMS with appointment setting. For example, you may receive a text message the day before a dentist appointment. You may even have the option to text back to confirm or reschedule.
AI and Bots
AI and bots can be used across all channels in your contact center. Contact Center AI can help automate interactions and assist agents in their customer replies. Companies are starting to automate web chat and social messengers by using bots. Similar to an IVR, a bot will ask a series of questions while trying to solve the customer inquiry. If the inquiry is too difficult for the bot, the interaction can be escalated to a live agent.
What Is an Omnichannel Contact Center?
I have talked about both multichannel contact centers and omnichannel contact centers. Both offer companies a variety of channels of communication, but multichannel has certain limitations. Multichannel contact centers often have the channels you need but they are siloed. This means agents have multiple desktops for each channel. This often forces contact centers to silo their agents by channels as well. Omnichannel contact center technology is necessary if you want to provide your customers with seamless channel switching.
For example, in a siloed multichannel contact center, a customer cannot move from web chat to a voice call and remain with the same call center agent. They will have to repeat all of their customer information over again to a new agent. With an omnichannel platform, the customer will be able to escalate the chat to a call effortlessly and remain with the same agent. All context will also be carried over and visible to the agent. So no matter how many channels a customer uses, the agent will have a complete view of prior interactions, showing the entire customer journey.
How Does an Omnichannel Contact Center Work?
The correct contact center solution is needed in order for a contact center to work properly. The correct omnichannel platform is needed for seamless channel switching. An omnichannel ACD is also necessary to route all channels and allow call center agents to work over multiple channels simultaneously.
Comparing Contact Center vs. Call Center
Call centers lack the channels of today's consumers. Although voice is still the primary channel within contact centers, other channels are becoming more prevalent. When thinking about whether you need a call center or contact center, you need to understand which channels your customers prefer to communicate on. It is also important to think about channels that are important today and will persist in the future.
When looking at customer care technology, it is important to take into consideration the channels you currently need and what will be necessary later on. Don't make the mistake of partnering with a call center software vendor that offers voice only when you know you will need email in the next few years. If you take this approach, you will end up purchasing multiple products, which will lead to silos and require agents to hop between multiple desktops. Also, take into consideration whether you need a multichannel contact center or omnichannel contact center. You may also want to consider the benefits of cloud solutions vs. on-premises solutions. Cloud-based contact centers can allow for lower capital expenditure and more innovative technology.