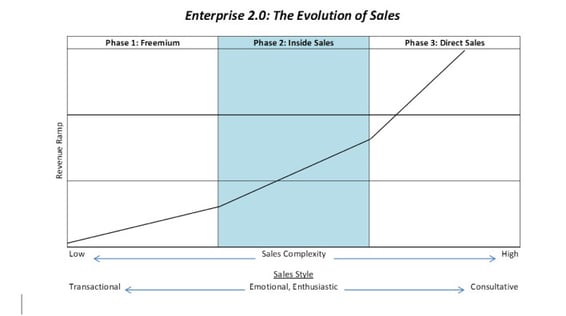 If you follow Bright Pattern, you know that we describe the ServicePattern(TM) platform as being the next-generation cloud contact center for SALES and CUSTOMER SERVICE.
Most of my posts are about customer service and I have been remiss covering sales. Here's a good one, though.
It was a guest post at GigaOM by Scott Irwin. Scott is is a general partner at Rembrandt Venture Partners, where he focuses on Enterprise 2.0 and SaaS investments. Read his background and Rembrandt's portfolio and I think you'll agree he has the cred to speak about this.
He starts with the question, "With downloadable apps taking over the enterprise, how do startups reach enterprise decision makers and purchasing managers?"
And his answer: Your inside sales force.
Scott makes a good case for why inside sales are the future of enterprise sales.
Here's just a tease:
Just as there has been a sea change from outbound to inbound marketing, the tech industry is experiencing a similar wholesale shift from outside direct sales reps to inside sales teams. In fact, inside sales jobs are growing at 15X the rate of outside sales roles. Not only is it the future of enterprise sales, it's also likely all you can afford at the early stages of a company's growth.
In contrast to traditional outside sales, which is done in-person and tends to involve extensive travel and time expenditures, inside sales is professional B2B sales done remotely via phone, email, and chat. It is strategic selling that requires managing a deal through a multi-stage process, multiple touch points with the customer, establishing value and an ROI for the product and supporting complex purchasing methods, like procurement departments, but importantly without visiting the customer.
That's where ServicePattern comes in with a cloud contact center that is affordable, easy to activate, but capable enough to support you when you grow to thousands of agents. And to support startups, we are working closely with the Runway incubator in San Francisco and the Call Socket outsource contact center in Oakland. If you are responsible for growing sales in your company, why not get a 20-minute demo of how ServicePattern can help you?