Getting a matching hair dye is not easy, so when I heard about Madison Reed at-home coloring kits I was genuinely interested to try it.
Madison Reed is a fast-growing company focused on hair coloring, addressing the gap between cheap drugstore hair color and expensive session with stylist - and they happen to be our customer.
I contacted them via their Facebook Page, using Messenger:
The interaction started great! Madi, Madison Reed's genius bot said "Hello Beautiful, and provided me with three different options to continue our conversation: get color matched, chat with a color specialist, or about Madison-reed questions.
I decided to get a color match and continue chatting with the bot.
The bot had me take a picture of myself in order to get the match. The bot was easy to interact with and I wouldn't have necessarily known it was a bot if it hadn't said so at the beginning of the interaction.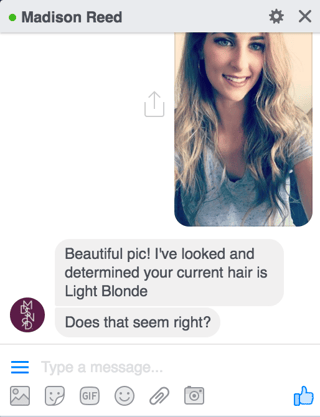 Upon sending in my photo, the bot immediately responded with a color match.
The bot asked if my hair (shown in the picture above) was "Dark Blonde". The bot matched my color fairly accurately and even led me to the hair dye in my color and asked if there was anything else it could help me with.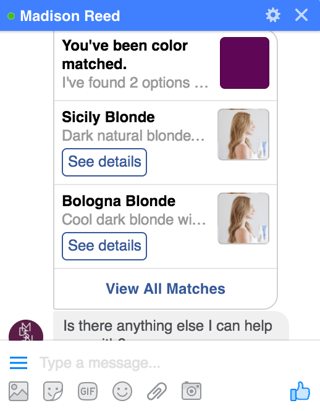 Because hair matching can be a tricky and inaccurate in certain lighting, I wanted to get the second opinion of a live person. Luckily, in the chatbot window they make it possible to talk with a Madison Reed hair coloring specialist. The specialist was able to help in ways that bot wasn't which is why the combination of chatbots and live representative is usually the best option for most companies.
Chatbots free up representatives from routine tasks, helping them to focus on interesting problems, like my complex hair color.