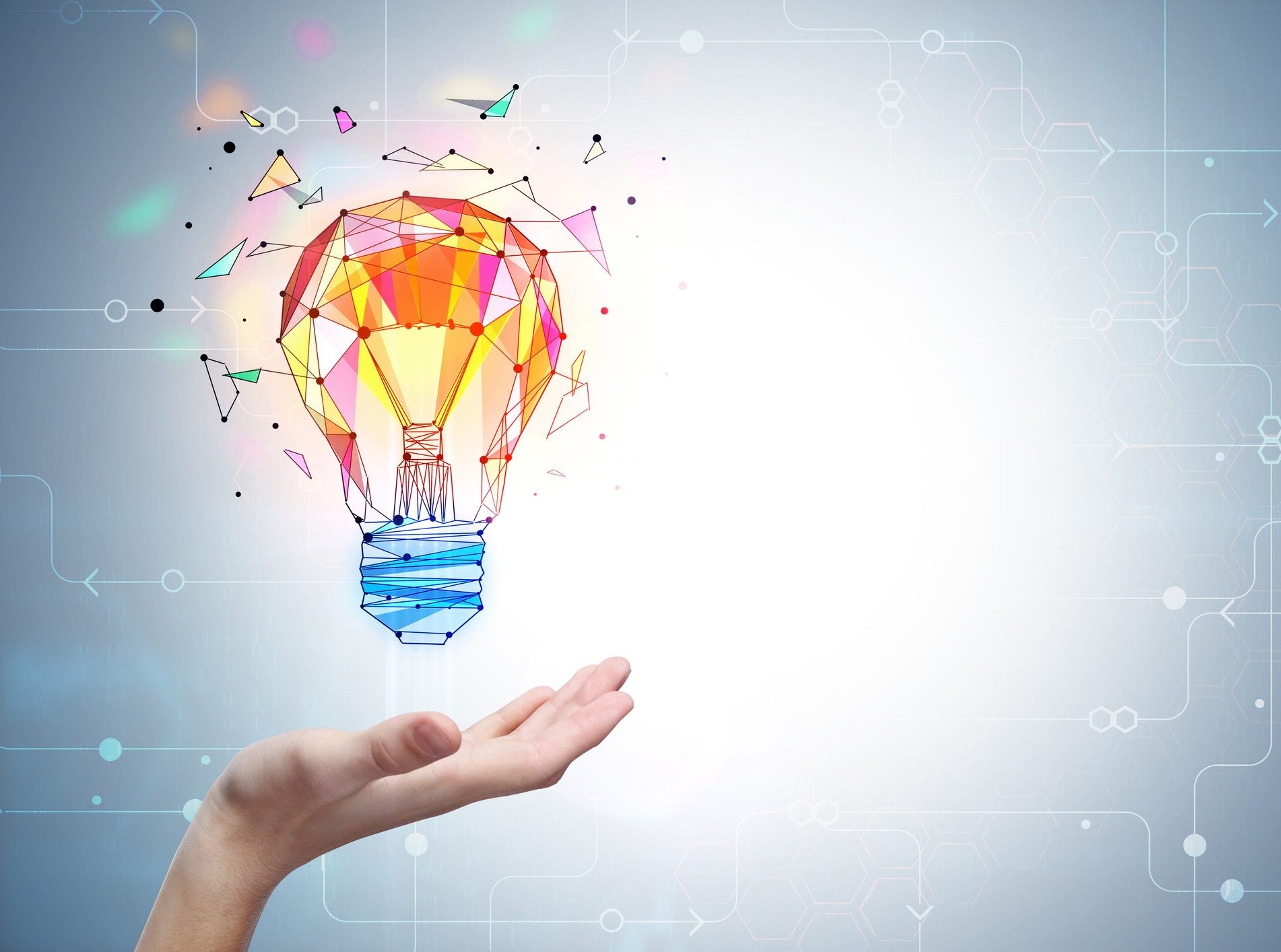 Coming back from Customer Contact Week (CCW) 2018 in Las Vegas, Nevada, the largest customer service and contact center trade show, the seemingly "old" subject of customer service looked refreshingly new with discussions of bots and AI. It was some of the older topics revolving around effort, omnichannel, and personalization that stood out to me. Why? Because the event was all about these topics, yet many companies today are still struggling to deliver. According to IQPC, the firm behind CCW, and also Gartner, only 5% of companies are actually doing omnichannel today.
For those who were unable to attend CCW, I want to share some of the key topics and takeaways from the event:
Reducing effort

– A long-standing topic and one most companies still fail to deliver

Omnichannel customer service

– Another enduring topic that most companies still struggle with

AI-powered customer service

– Is it bots versus humans?

Keynotes about people and culture

– Customer service isn't just about great technology, it's about great people
Reducing Effort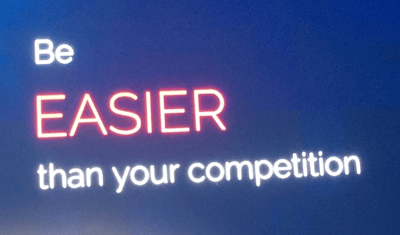 Reducing effort remained a key hot spot for companies. It was discussed in the main stage keynotes and in discussion group breakouts.
On the topic of easier, effortless customer service, one of the mainstage presentations noted that if you are 1% easier you will beat your competition. It's critical that companies make it easier for their customers and agents.

"Effortless" is still key. "Make it easy"was a mantra heard throughout the event, not just for customers, but for agents, too.

I had a great lunchtime conversation with a group around the book

The Effortless Experience

by Dixon, Toman, and Delisi after a session on reducing effort. If you have low effort, 94% of people will buy from you again, but if you have high effort, only 4% will.

ServiceNow highlighted how critical it is to reduce effort, not just externally, but also internally for agents.
To learn more about how to reduce effort, check out our 5 Tips for Effortless, Personal Cloud Customer Service.
AI and Bots
I smiled when I visited one booth with all the staff wearing shirts that said, "Got Bot?" It reminded me of when I heard Gartner recently predict that by 2020, people would have more conversations with a bot than with their spouse. I enjoyed that bots and AI had such presence all over the event, even as key topics in many of the Interactive Discussion Groups.
I also had a chance to talk with innovative partners like IBM, discussing how Watson can be easily turned on even for medium-sized businesses. AI isn't just for the biggest companies anymore, and it can be made available via cloud customer service platforms. Smaller companies can have AI and self-service capabilities with escalation to agents across channels when AI and humans work as one.
One session related to AI centered on reinventing IVRs in the digital world, while another was about blending human and digital interactions.
It was refreshing to discuss some simple tactics to get started in AI:
Take some basic high-effort functions that have been done in IVRs for decades and instead automate these tasks.

Try to schedule an appointment in an IVR—this is one area where AI and bots can help.

Look to what agents are doing 80% of the time from a simple journey map and look to those use cases as the ones to automate with bots.
Context and connecting bots to humans was a key topic discussed during the event. Customers don't want dumb bots that become new silos. Bots must be connected to other channels as part of one seamless, low-effort customer journey. One key takeaway is to make sure you have an easy-to-use cloud contact center platform that includes built-in AI and bot capabilities and connects to your other traditional channels, like Bright Pattern.
Omnichannel: Still Elusive
Another takeaway is everyone is talking omnichannel, yet few companies are actually doing it. First, what is it? Vendors have confused the heck out of this one, but plain and simple, omnichannel is when a customer can have a single, continuous, simple conversation across channels with all context carried. When an agent in looking at his or her desktop and can see for a given customer every step in that customer's journey—from web chat to IVR to text-to-voice to bots—that's omnichannel.
Many vendors were talking about omnichannel on their signs but only two vendors could actually demo it. Not surprising, CEB TowerGroup (now part of Gartner) recently noted that 80% of companies are pursuing omnichannel, but only about 5% can do it today. Similarly, an IQPC/CCW study noted that around 5% companies are actually doing it today.
Keynotes About the Importance of People
Technology was everywhere during the show. It's important to remember that the best technology will fall flat unless it is coupled with great people and leadership. The companies that have great customer leadership cultures that empower agents and then couple it with innovative technology are the ones who win. And the keynotes I found most compelling were about people.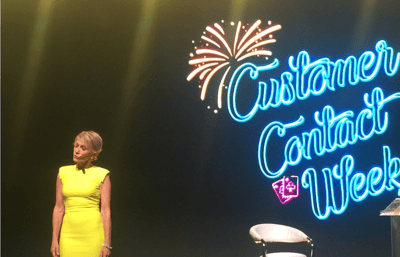 Shark Tank star and businesswoman, Barbara Corcoran, reminded us that great customer experience and service don't just happen from awesome technology—they start with people, whether it's your agents on the front line or the leaders who help them. One of my favorite phrases that she used during her talk on leadership that speaks to the importance of people and empowering them was, "People are either expanders or they are containers."
As contact center leaders, we need be expanders for all the people we work with to help them. We also need to be expanders for our customers in our attitude and approach to customer service.
Barbara also revealed that we need people everywhere with the right customer service heart or DNA. Hire "attitude over experience," as she put it. In addition, she noted that fun is good for business, as it is people who make things happen. Barbara's authenticity and genuineness also shined through, as she was not afraid to reveal her biggest struggles. As she put it, her biggest struggles personally and professionally led to her biggest success.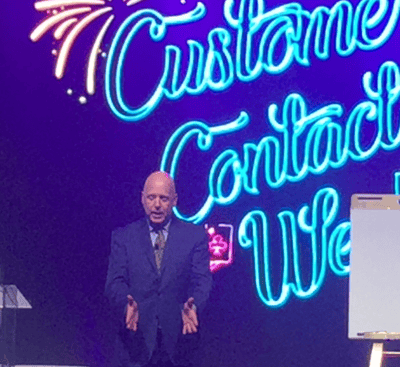 The final keynote from Shep Hyken was equally awesome. Shep again had me smiling with his positive energy and insight. He stated that "fine" is just not good enough when it comes to customer service. Shep called "fine" unacceptable and the "F-word" of customer service.
As he put it, "When you ask your wife is she is happy and she says curtly, 'I'm fine,' you better be listening because she isn't truly fine." He mentioned that fine is not good enough—we need to be great. Shep mentioned a study that said 40% of customers who are satisfied don't come back and that $75 billion is the yearly cost of bad customer service.
Final Thoughts
First and foremost, my last thought is to not miss next year. I find CCW to be the best customer service tradeshow and it has only gotten better over the years.
If you would like to know more about who Bright Pattern is and what we stand for, check out this video or read about our 5 Tips for Effortless, Personal Cloud Customer Service.