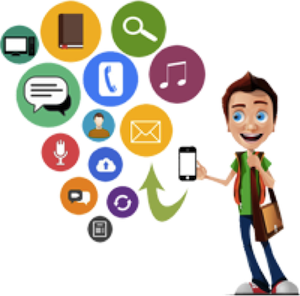 Tailored services for smartphone users - the Rich Contact Experience.
Learn about Bright Pattern's innovative solution for contact centers - a button in your existing smartphone application or website, which allows your contact center to benefit from smartphone capabilities.
Thursday, October 30, 2014 1:00 PM – 1:30 PM PD
Register for Bright Pattern's new Webinar and discover how implementing tailored services for smartphone users in your contact center can help you immediately reduce costs and increase your customer satisfaction.
56% of American adults now own a smartphone!
Were you aware that smartphone owners spend 86% of their time using apps, compared to only 14% of their time accessing the mobile web. This evolution indicates that one of the best methods to directly communicate with your customers is through a mobile application.
Smartphones allow people to send photos and video, to share their location, to be identified and transferred to the appropriate department when calling about an issue or question. And yet, in today's environment, customers continue to be burdened all the typical annoying communication stages when trying to get some help:
1) First hunt down the correct customer service number
2) Manually dial this number digit by digit
3) Interact with a complex IVR and typical menu tree
4) Wait in queue
5) Verbally identify who they are and why they are calling
6) Carry a pen and paper to write down the provided confirmation or case number
7) Repeat the description of their issue when being transferred to a different agent...
What can you offer to your customers to enrich their experience and to eliminate those issues?
What would you think if it was as easy as adding a single button to your existing smartphone application or website, which would provide the tailored customer support your clients demand, and instantly provide a means to solve all of the issues listed above?
See how it works - attend this 30 minute Webinar about Rich Contact Experience to understand for yourself how a single button can change your customer's experence.
To register and attend the webinar click here
Thursday, October 30, 2014 1:00 PM – 1:30 PM PD