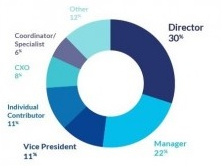 Data released by LeadJen, a Business-to-Business (B2B) lead generation company, shows that director-level professionals in sales and marketing are most likely to respond to prospecting efforts from marketing technology vendors.

LeadJen's Prospecting to Marketers infographic "graphically presents best practices compiled from lead generation campaigns targeting marketers from 2010-2013, including 264,300 outreach attempts, and nearly 32,000 conversations with marketing executives. These calls resulted in 1,561 qualified appointments, $4.5 million in revenue generated and an additional $7 million in pipeline value."

The data reveals that 49 percent of appointments are set with budget owners, including those with a director, vice president or CXO title paths, compared with just 22 percent of appointments set with managers specializing in marketing functions such as digital, e-commerce and social media.

Getting those appointments takes a fair bit of work, however. The data also shows that prospecting amongst marketers requires 169 attempts - calls, voice mail messages or emails - to yield one qualified appointment.

"Marketing technology vendors have a captive audience of prospects who are willing to learn about new products and services that help them perform their jobs better," said Jenny Vance, president of LeadJen. "A strong message focused on benefits and the right calling cadence can make lead generation efforts to marketers effective in driving sales appointments and revenue."

Our ServicePattern next-generation cloud contact center solution can help simplify your prospecting efforts - reach out to us and ask how.