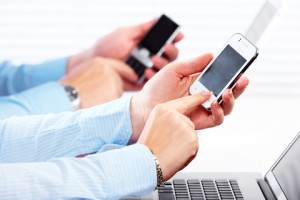 Mobile technology, through the use of smartphones and tablets, has grown exponentially over the last couple years. Mobile use has touched every part of our lives, from entertainment, work and even our shopping experience. A report from Direct Marketing News illustrates this unprecedented growth in the mobile sector, showing that 20% of consumers use their mobile devices in searching for various content and 50% spend up to 30 minutes per day shopping.

How do you, as a business, respond to this opportunity, with one in every two people spending 30 minutes a day shopping through their mobile smart devices?
If you want your business to grow successfully, you have to adapt your marketing and business development strategies to that of market trends. This is why, according to the recent report "Getting Mobile Right" by Brand Republic and Netbiscuits, about 71% of marketers currently use mobile as part of their multichannel brand awareness program and nearly 52% use the channel to increase their overall website traffic.
How then does this shift towards Mobile technology apply to the contact center industry?
Meeting customers' expectations is essential to maintaining excellent customer service. With mobile technology, everything is instantly available and just a tap or two away on a smart device. Why should the contact center experience be any different?
The current contact center experience goes as such. Rather than use all the capabilities enabled to you by your smartphone, which has two cameras and an endless array of apps that could enable you to better communicate with a contact center representative, you are shuffled through the dated IVR sequence followed by a hold, only then to speak to a representative about your issue and more often than not, be transferred through several departments to finally have your needs met.
The problem here? No one is satisfied, neither the customer nor the contact center Manager. The customers are herded through the entire process, from the IVR, the hold times and finally to the representatives. And for the Center Managers, they are left with disgruntled customers as well as a bill for the length of the customer was placed on the IVR and Hold sequence.
Bright Pattern proposes a solution that speaks to the needs of both the customer and the contact center Manager.
Bright Pattern makes what would seem sensible in our mobile-driven society into reality with Service Pattern. Rather than herd customers through the IVR's and wait times, Service Pattern has the ability to identify, segment and determine the service needs of the customer before the call starts. Service Pattern also has integrated multichannel communication such as the transfer of images, two-way texting and voice signatures for e-signing.
Service Pattern is revolutionizing the inbound contact center industry with customer service options that Mobile users of the 21st century are demanding. Contact us for a demo today to see how you can begin to meet your customer's expectations and better maintain customer satisfaction starting today.
Ask for a Demonstration