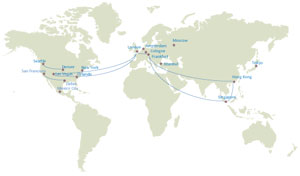 Japan, Turkey, the Netherlands, Germany, the United Kingdom, Mexico, Russia, Hong Kong, and Singapore is where our platform is in operation today, with additional countries being planned – this is in addition to 6 independent installations within the United States.
A number of partners have successfully deployed Bright Pattern's cloud contact center platform around the world in multiple languages, under their own private labels. This extends Bright Pattern's coverage well beyond the United States and US-English based regions.
The platform is currently localized in English, Japanese, Spanish, Dutch, German, Turkish and Russian, and the incorporation of additional languages or localizations does not require a platform recompilation.
A key partner benefit is the unique capability of ServicePattern to be deployed and operated without reliance on BrightPattern personnel or staff. Our partner community enjoys this autonomy and, when combined with solid enterprise functionality, scalability, and fault tolerance; results in a dependable, revenue-generating platform for our partners.
The ServicePattern platform is installed by running a standard executable installation on Windows, or RPM packages on Linux.
A fault tolerant design for continued operations during component failures is one of the key system architecture features.
Scalability to thousands of agents by simply adding generic servers, the capability to take down and add servers on the fly without experiencing system downtime, and system monitoring over SNMP make ServicePattern the platform of choice for deployment worldwide.