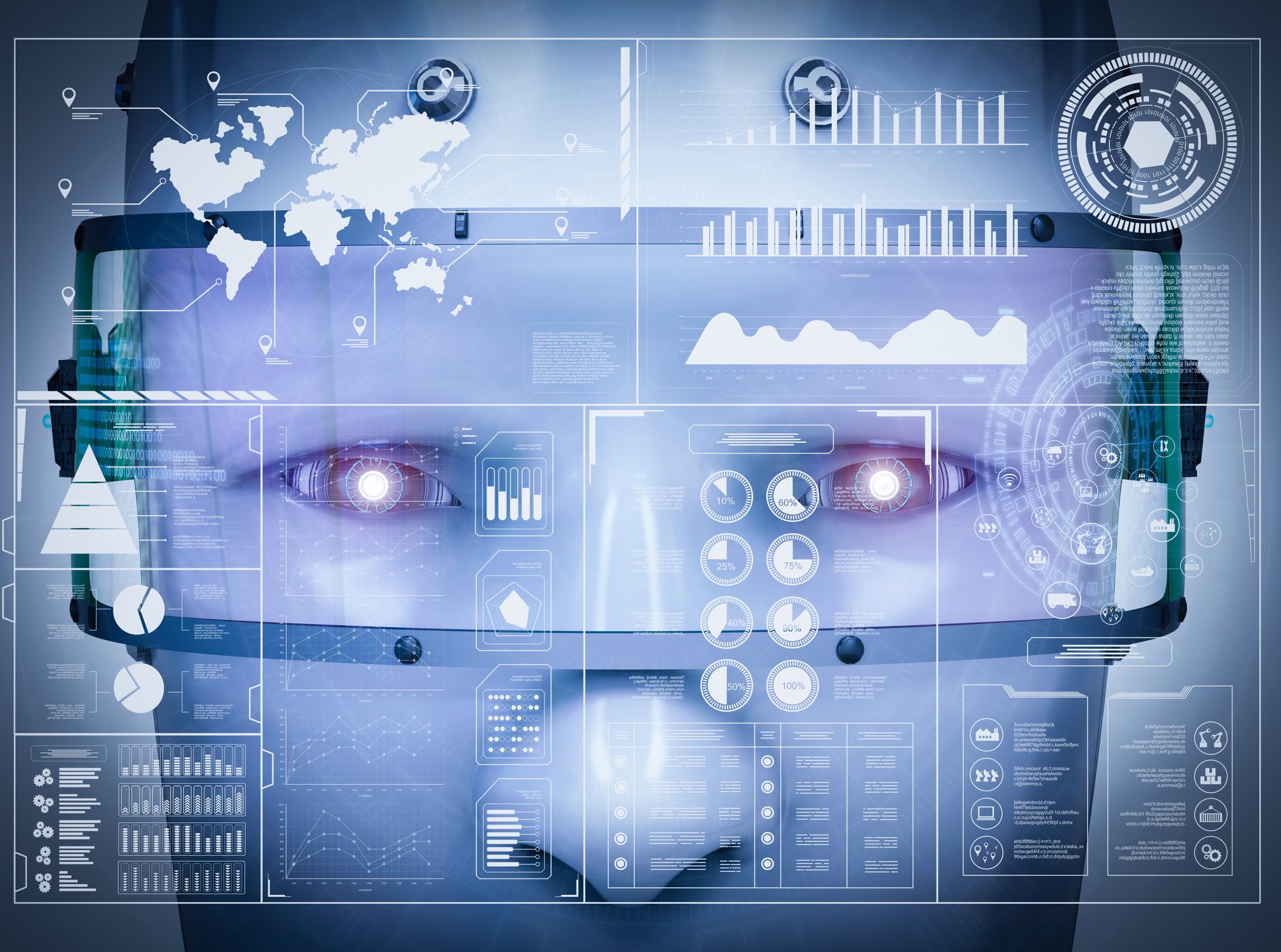 Last week I shared Bright Pattern's top four trend of 2019. With customer expectations higher than ever and CX satisfaction rate flat, these are the trends that CX experts will look to to elevate the customer experience. Here are a few more trends from the leaders at Bright Pattern.
#5: THE RISE OF CONVERSATIONAL INTERFACES IN CUSTOMER SERVICE: "ALEXA, GET ME CUSTOMER SERVICE!"
Smart speakers are no longer trending—they are here to stay. A 2018 report by Edison Research and NPR boasts that 43 million Americans own at least one device. Additionally, the smart speaker is now a segment of the smart home hub platform, which also includes smart displays. Early applications were limited to rudimentary tasks like asking about the weather or listening to a podcast. However, as the knowledge base continues to grow and third-party developers create more robust applications, expect voice-based user experience (VUX) to be an integral part of CX.
This rise of conversational interfaces in customer service may also solve the problem for 90% of consumers who prefer self-service but loathe the incessant tree of choices presented by a traditional IVR. In an article posted last year, Gartner provided a possible, voice-driven roadmap for this new CX channel, as shown.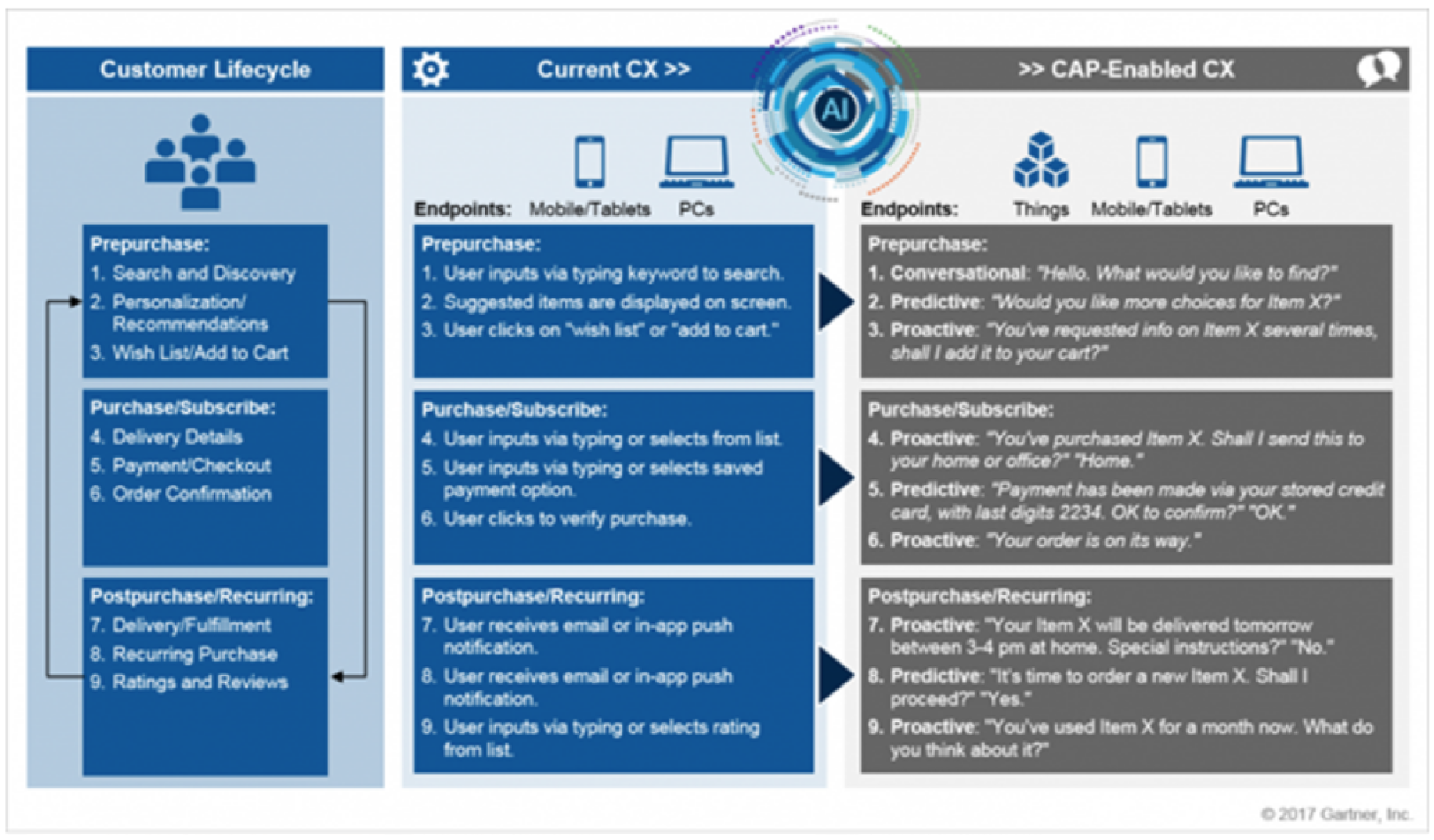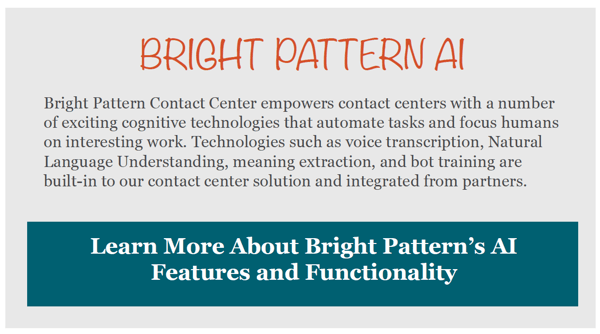 #6: GROWTH OF MOBILE AND NEW CHANNELS IN CX
It might make you feel old to hear that mobile apps have been around for over 15 years. Beginning with the simple task of messaging (specifically, email), mobile apps exploded after the launch of the Apple iPhone in 2007. In 2018, it has been forecasted that consumers will download a total of 205.4 billion apps, and by 2022, that number is expected to rise to 258 billion downloads. Not surprisingly, the COPC has reported that mobile care will increase by more than 40% in 2018.
Undoubtedly, businesses have seen this shift to the mobile space and have developed their platforms to cater to the rising needs of younger, tech-savvy consumers. Stores like Express and Victoria's Secret encourage consumers to shop within their app. Fast food outlets like McDonalds, Starbucks, and Wendy's are offering special discounts and order pick-ups. Even financial institutions are offering robust in-app services, like check deposit, bill pay, and detailed account information. However, what if there is a problem during your in-app experience?
Mobile care within an app is opening new channels in customer experience (CX). You can now have a chat within the app itself or send pictures, videos, or even docs on the go. Perhaps you just purchased a new TV from a big box retailer and are having problems installing it. In-app customer care could allow you to share a picture of the wiring in real-time so support help could troubleshoot the problem and text you a picture of how to connect the cables as you sit behind the TV with your mobile phone.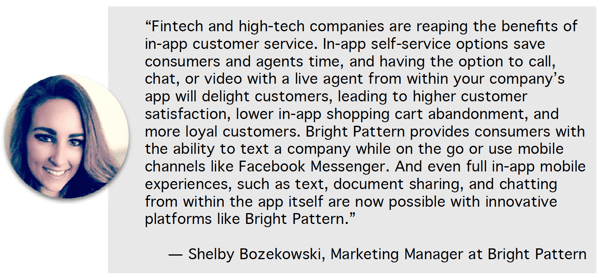 #7: AI WITH CX IMPACT
As mentioned previously, spending on AI has increased significantly in the last few years. In fact, 60% of C-level executives say they plan to increase AI spending by 50% over last year. However, according to a Forrester survey, 55% of firms have not yet achieved any tangible business outcomes from AI, and 43% say it's too soon to tell. Unless it is deployed strategically and with specific customer outcomes as a target, AI may soon become another addition to the technology trash heap for companies who don't know how to implement it effectively.
In trend #1, we discussed the future of chatbots and their benefit to overall CX. However, this is just one part of the bigger AI picture. Simplified tasks aside, AI is a powerful tool that should be leveraged for more practical and specific CX applications. The following two examples represent the future of AI:
Consumer side: Imagine a loan application where a customer fills out a partial form. AI identifies the missing items, emails the customer for the missing items, and then automatically gathers and fills in the final information—all without a human.
Agent side: AI will be helping agents by providing chat or text or voice response to agents to better respond to customers using natural language processing (NLP) or natural language understanding (NLU) technologies. Imagine a chat where the customer mentions "Maui" and the agent is presented with hotel recommendations in Maui automatically via AI and can then reply to the customer via phone, chat, email, or text.
#8: CONSISTENT EXPERIENCES ACROSS CHANNELS WITH OMNICHANNEL QUALITY MANAGEMENT (QM)
Ten years ago, service levels differed drastically across industries. Think of the different level of service received from Nordstrom versus your cable company or government agency. But in this age of disruption where industries overlap, consistent customer service levels are now the expected norm across industries. This same trend is also coming to channels—customers expect similar customer experiences across a growing number of channels and they don't want to wait two days for an email response when a text or chat is replied to immediately. No matter the channel, consumers expect consistency and speed in CX across all industries and all channels.
So how do you win when the bar raised by customers has been raised and you are faced with an ever-increasing number of channels? Your company's customer experience is judged in seconds and omnichannel quality management is the key for your company to offer consistent service across channels.
Companies that utilize multiple channels will need native quality management (QM) measurements for both traditional and emerging channels. These measurements could include Net Promoter Score (NPS) or customer satisfaction (CSAT) by channel or even sentiment as determined by AI, as shown by the "happy face" for a given channel interaction or journey type.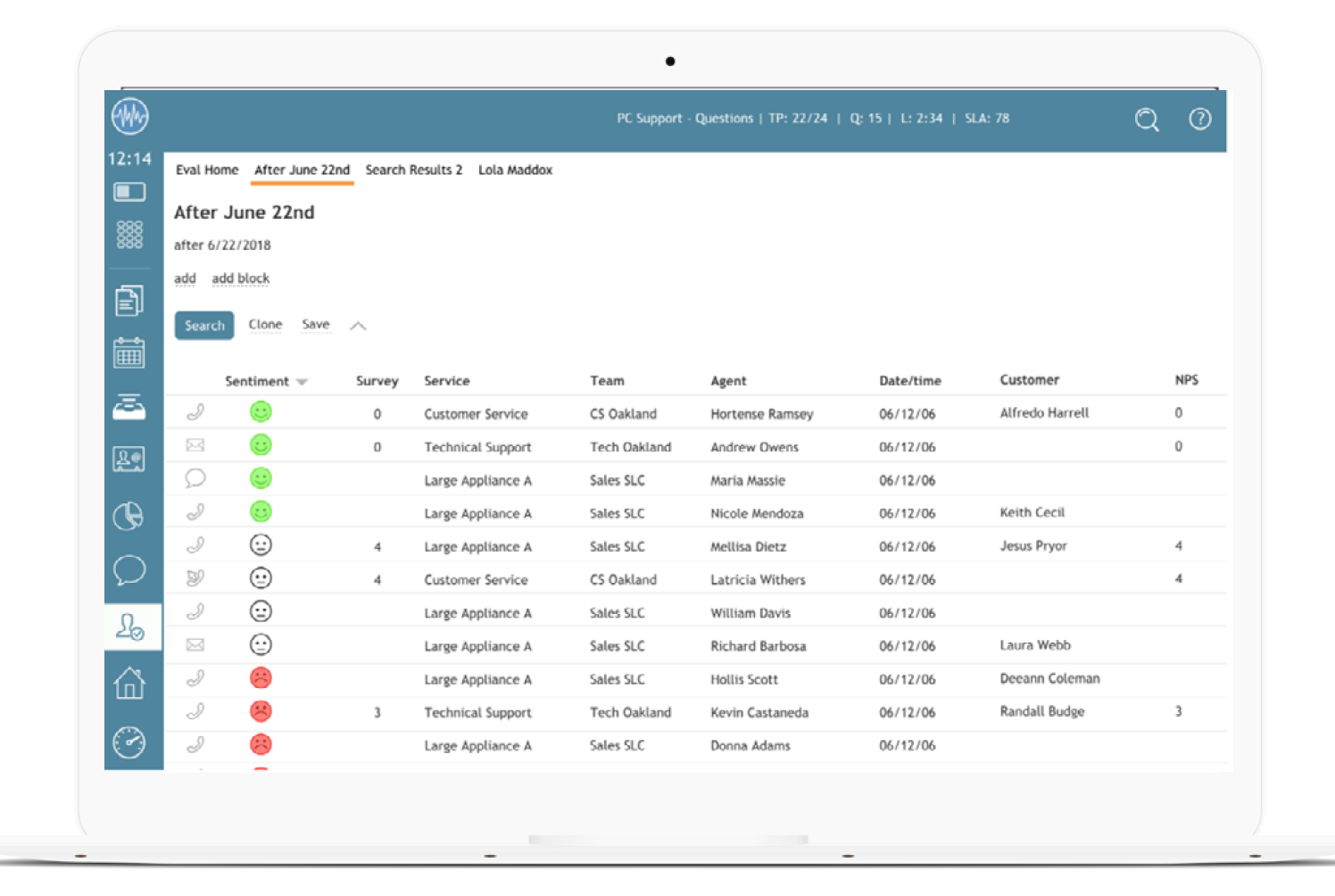 These measurements are possible in a platform like Bright Pattern because all channels and the measurement of those channels are native to the platform and not siloed. This lets you see and measure SLAs for all channels without having to go to different systems for each channel, each of which has its own reporting.
#9: COMPANIES WILL FINALLY REALIZE TRUE OMNICHANNEL AND THEN IT WILL DISAPPEAR
What did you say? How can the more innovative companies finally start to implement omnichannel and then see it disappear? This is a trend that won't happen right away but the seeds for it will be planted in 2019. As companies implement true omnichannel and then continually streamline those journeys across channels, the journey from the customer standpoint will become more effortless and personal. Customers will not focus on each channel, and the friction they are experiencing but will instead focus on the journey itself as the channels fade into the background, and in the best case, disappear.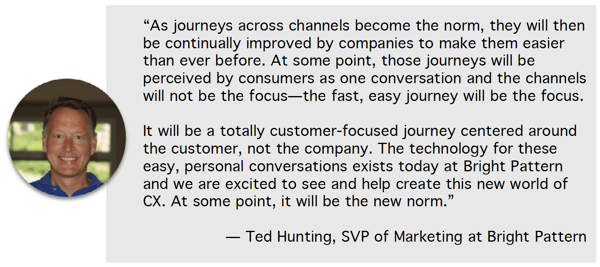 Want all nine of our trends? Download our whitepaper here!