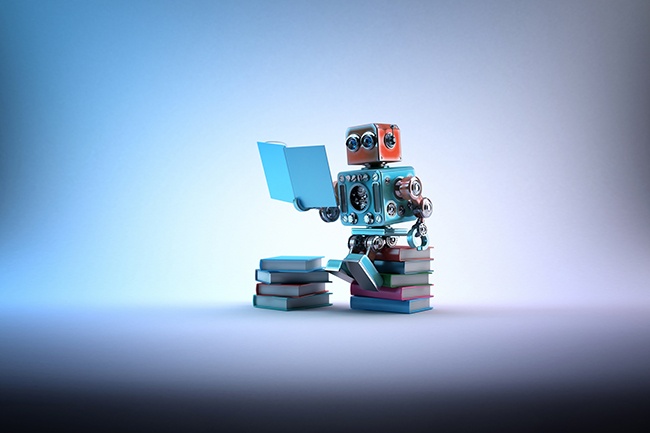 Alterra.ai, a startup out of Palo Alto, CA, has developed deep learning technology for building conversational virtual agents powered by artificial neural networks. With this deep learning technology they created the first ever virtual travel agent.
The travel bot, named Alterra, can maintain dialogue with end users and help book flight and hotel reservations. The bot was created to benefit both end users and travel agencies using the bot.
What's in it for a customer?

It Helps with Navigation:

Currently when a customer wants to make travel plans, they go online and have to scroll through an endless amount of options. Alterra helps simplify the search process.

The bot will ask questions to narrow down the options and even make suggestions based on answers and past conversation history.

It's Easy to Use on Mobile and Needs no App:

Because the bot is accessed via Messengers, it is mobile ready and customers can easily book from smartphones or other small devices. The bot asks questions in chunks, so there is never too much information on the screen at one time making it easy to use on any device and on the go.

It's Proactive:

Through the deep learning algorithms, the bot can make trip suggestions proactively when the customer is making an inquiry. This leads to a quicker sale and customers often claim to have a better customer experience with proactive vs reactive service.



How does it help Travel Agencies?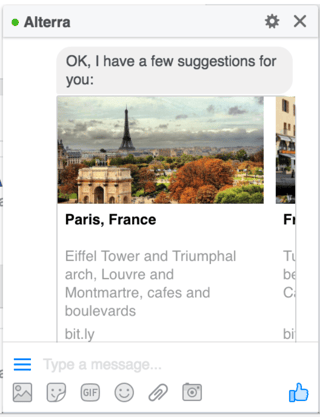 Higher Conversions:

The proactive nature of the bot speeds up transactions and its suggestive nature, driving increases conversions. It is much harder to "abandon a shopping cart" when the bot keeps following up, to the point of escalation to a live representative.

Personalization:

the bot stores all data from interactions in order to learn or train itself for the next interactions. When the bot experiences a returning customer, it remembers the context of all previous interactions and can make suggestions based on customer history.

Cost Savings:

Travel agencies will save money if more interactions are handled by the bot instead of live agents. Studies show that more than 15% of inquiries to contact centers could be answered by a bot due to the simplicity of the question. These routine questions can easily be handled by bots to reduce labor costs.
This is just one example of how bot could be used to radically improve customer experience and increase conversions. Is your company utilizing AI and bots to benefit your customer support and sales?