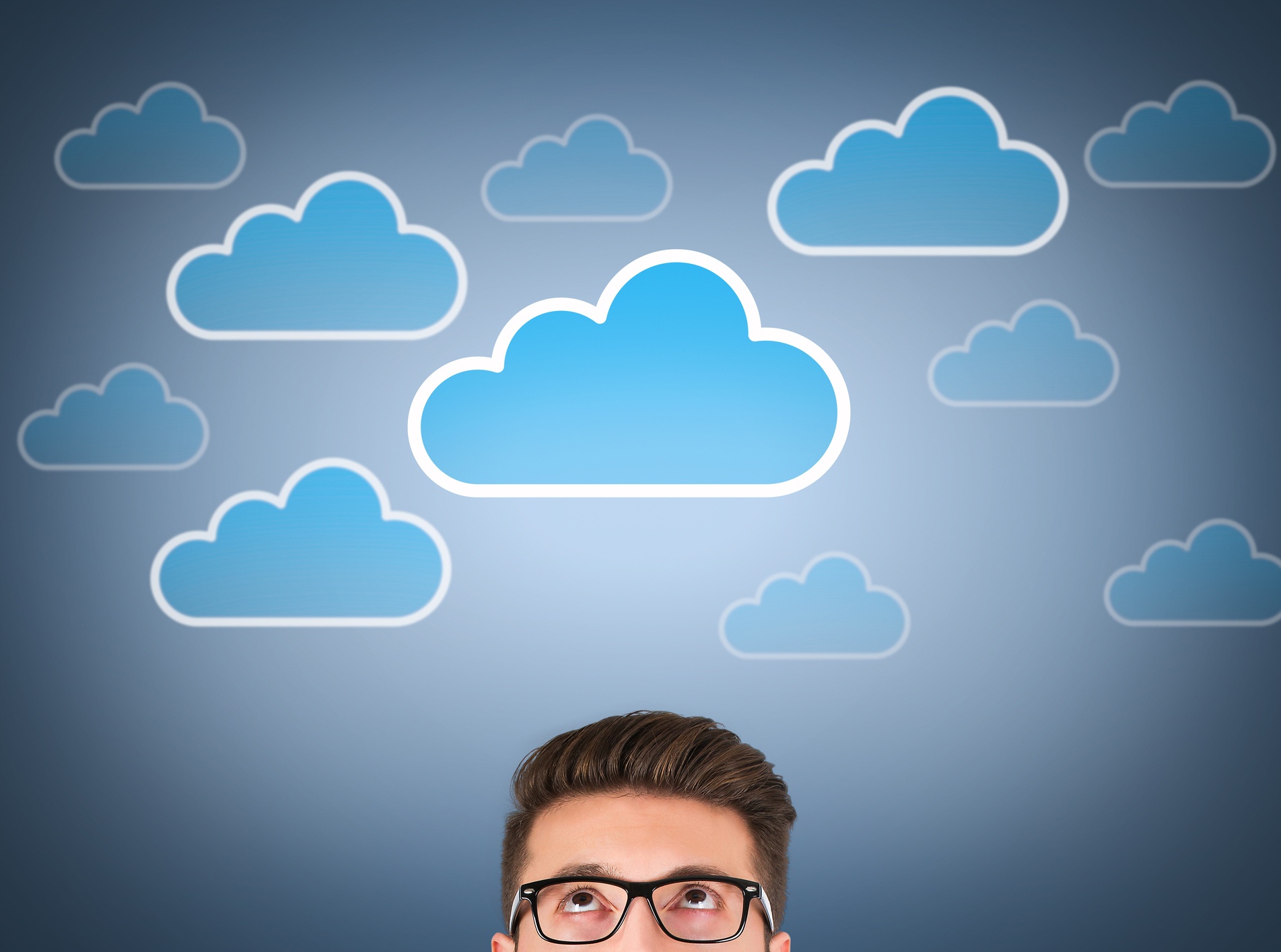 Last week we posted a blog "Enabling A Great Experience Is Now Imperative: The Cloud Is the Key Enabler" to discuss benefits of the cloud. But despite an industry-wide understanding of the benefits of the cloud, adoption remains low. Of our survey respondents:
40% said they had partially transitioned to the cloud
23% said they planned to move to the cloud but hadn't started yet
4% of respondents said they had fully transitioned to the cloud
To understand this divide between interest and action, we asked people what holds them back. Our survey respondents indicated the biggest concerns in moving their contact centers to the cloud: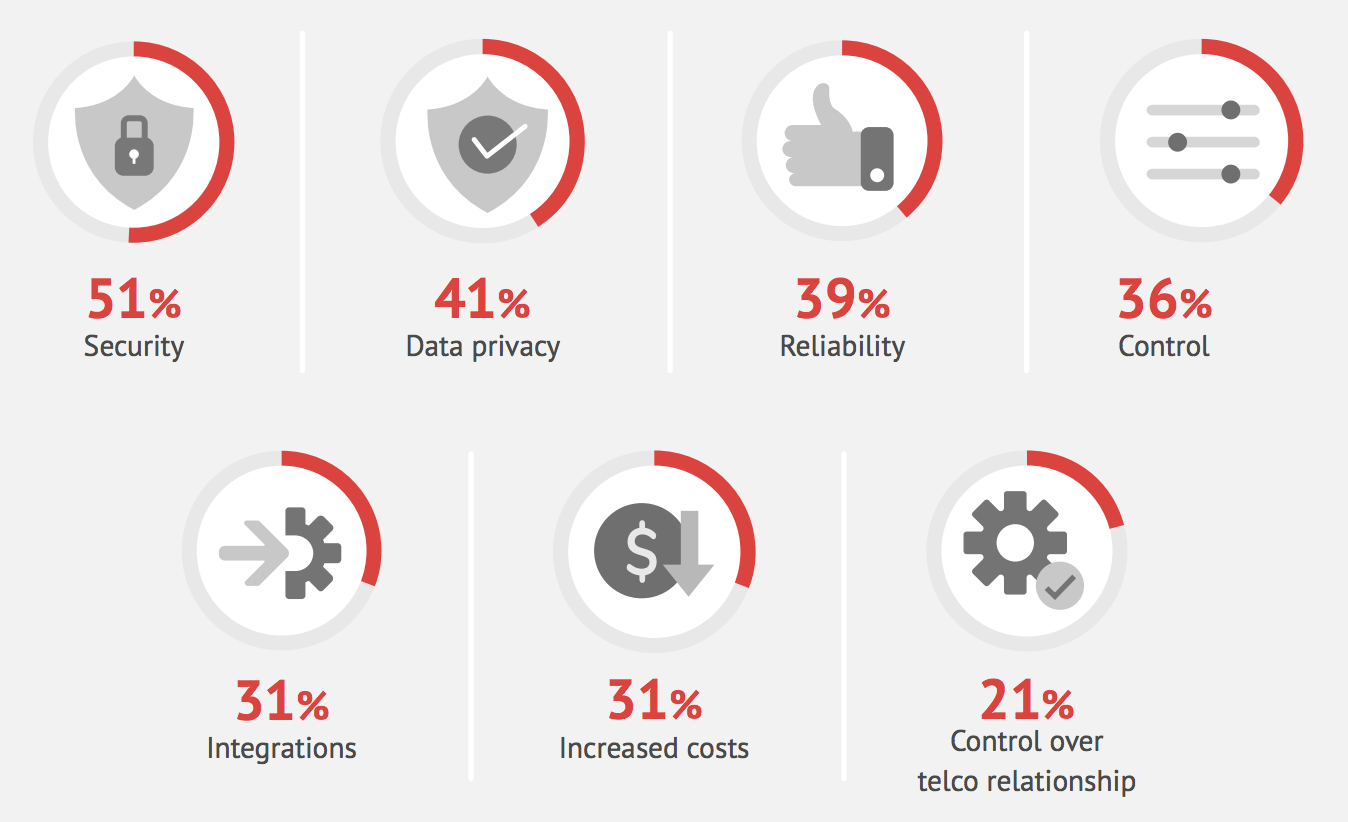 Security and Data Privacy
Security and data privacy were ranked top concerns for transitioning contact centers to the public cloud, mentioned by 51% and 41% of survey respondents, respectively. Many providers address security concerns with PCI-DSS certification, SOC 2 certification, and HIPAA compliance. When supported by a third-party audit, these assurances are excellent start points, but the security of one service component does not assure the security of the company operations as a whole. Cloud contact center services have multiple data access points that need to be considered from a security standpoint. When thinking about data security, keep the following topics and questions in mind:

1. Phone and SMS Would your phone and SMS traffic come from broadband telcos or your own network? Do calls and messages have to be encrypted on both provider and agent legs?

2. Chat, email, and mobile apps Do you plan to have chat come from your website? Would your email come from a cloud service or your on-premise email server? Do you plan to have your customers use mobile apps to access your service?

3. Integrations with other cloud services Is interoperability needed with cloud CRMs, speech-to-text services, or AI providers? How secure are these services?

4. Integrations with on-premise services and/or data Does your contact center service need access to your on-premise back office systems?

5. Agent and supervisor access Are your agents accessing the system from the office or home? What authentication/single sign-on mechanism would be used? How fast would it react to changes (e.g., when an employee is terminated)?

6. PBX and enterprise messaging connections What degree of access to knowledge workers in the rest of your organization would contact center agents need? Is an audit log of messages required?

7. QA coach access Do you need to download files for offline access? Is there a requirement to separate recording access between departments? Does the fact of an access have to be logged for audit?

8. Tenant isolation When connecting to a provider via MPLS or VPN, how is your network isolated from other tenants' networks?

9. Storage in the cloud Where will you store transcripts, recordings, customer contact data, and logs? Which of that data may contain sensitive information? Are there tools in place for complying with privacy regulations?

10. Fraud in customer-facing systems What measures can be taken to protect from customers from impersonation attacks?
As is apparent from this list, one simple solution, such as backhauling traffic to the cloud, or including the cloud service into your security perimeter, won't work with a cloud contact center.
We recommend that you identify:
Your requirements and focus on the points that apply to you, in order to establish the extent of your exposure and the measures you and your vendor can take to address them
The changes that employees can make to the cloud system that would impact the security, and establish control over them
The data that needs to be exchanged with the cloud contact center solution, and limit its extent as well as ensure the security of the channels used to access it
Reliability Versus Availability
In our survey, 39% of IT executives said that reliability is a cloud transition issue. Why? While it's true that the cloud, a network of servers in data centers, does sometimes fail, the solution could be designed in such a way to minimize the impact on your business. The reason why survey respondents question the reliability of the cloud could be that they confuse reliability with availability, which, while related to one another, should be considered as separate entities.
Reliability means that the service is provided without errors, while availability means that the service is not denied. For example, a reliable service may still give you the occasional busy signal, while an available service may still terminate every call after a minute.
A truly reliable cloud solution is one that keeps transactions even during a failure. The holy grail is a solution in which any of the computers handling a conversation can be turned off without interrupting it.
Disaster Recovery Management
Bright Pattern strives to deliver continuous availability with absolutely no service interruptions, even during scheduled maintenance windows and upgrades. In addition, we offer geographically distributed availability by providing a multi-site disaster recovery option that relies on the active-active model, where all sites share the load. If a disaster occurs and one site is down, the active-active model ensures that the other sites pick up the failed site's transaction load, and business runs as usual. There is no switchover from one site to another.
Although many vendors offer a multisite disaster recovery option, most use a primary/backup approach with a switchover. In some cases, the switchover is automatic, whereas in others, the switchover is manual.
If you consider a vendor that utilizes a primary/backup model, you have to ask whether (and how often) automatic switchover test exercises are conducted.
How do you know that switching from a failed site to a backup site will work if it's never been tested?
Likewise, if the switchover is manual, you must consider where the responsible personnel are located. If an earthquake in California brings down all your sites, for example, and the people in charge of commanding the switchover are personally impacted or injured, then there's no way that that manual switchover is happening. Without the active-active model, vendors can't promise continuous availability.
Calculating Availability
With any solution you choose, you need to know not only the anticipated availability, but also how the cloud vendor calculates it. Many vendors claim availability of 99.999%. It's not clear, however, how that availability is calculated, or whether that figure includes maintenance intervals, the frequency and duration of those intervals, whether the system is 100% available for only a fraction or all users, and so forth.
We strongly believe that true availability is calculated as the number of impacted logged-in agent minutes divided by the total number of logged-in agent minutes used over the same period: Be wary of the vendors that claim 100% availability.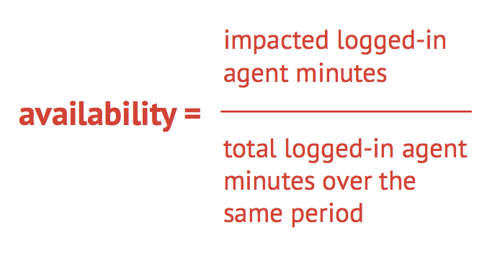 Retaining Control with MultiCloud Strategy
Gartner defines multi-cloud as extreme portability. Moving applications and avoiding vendor lock-in is essential for business continuity. In our survey, "Control" was mentioned by 39% of IT executives as a cloud transition issue.
Reliance on any single leader for mission critical applications is risky. Did you know that HP closed its HP Helion public cloud business in 2015, and Verizon closed its public cloud service in 2016? Granted, these weren't the leading vendors, but reliance on any one cloud vendor is a risk, as is illustrated by Amazon AWS S3 disruption or the Microsoft Azure fire extinguisher mishap.
Moreover, a number of contact center cloud vendors do not offer a choice for a telecom provider. Some vendors even base their telephony entirely on a single provider such as Twilio or Bandwidth.com.Ultimately, this inflexibility over telco providers limits your options on price negotiations and restricts your ability to control resources like phone numbers, for example.
Many leading CRM and case management applications offer their own, built-in contact center systems. Although this approach often promotes greater integration, it also locks you out of integrating the many other applications your business might use, such as dedicated fulfillment and marketing automation systems.
According to a RightScale survey, 85% of enterprises had a multi-cloud strategy in 2017, an increase from 82% in 2016.
With Bright Pattern, you have a choice. The architecture is designed for active-active federated redundant multi-cloud across providers and even operating systems. We routinely deploy combinations of Amazon AWS, Azure, and bare metal, both in the cloud and on-premises. We welcome your own telecom provider as well as offer our provider mix optimized for cost savings and business continuity.
Cloud Costs and Benefits
Surprisingly, 31% of survey respondents listed increased costs as a concern for transitioning a contact center to the cloud. We say "surprisingly" because a cloud service is usually perceived to be less expensive than an on-premise contact center.
A cloud service offered in the same scope as your current on-premise operation is likely cheaper because of economies of scale (unless your scale is comparable to the provider's). One of the key business drivers for moving to the cloud, though, is evolution of cloud capabilities, not maintenance of the status quo.
In addition, telecom expenses constitute a large share of contact center costs. Having the option to grandfather your existing telco and pricing could help in maintaining these costs, but keep in mind that a cloud contact center provider may have better bargaining power thanks to its aggregated call volume. And, of course, as with any service, locking in prices is always a good idea.
With that said, the cloud offers great benefits beyond savings on capital expenses. With a cloud solution, you get frequent upgrades that synchronize technological advances with customer behavioral changes. Rolling out new features and functionalities can happen quickly, without up-ending your current business processes. Frequent upgrades also help to keep your contact center compliant with ever-changing legal requirements.
The best benefit that the cloud delivers is a focus on customer success—a provider offering a subscription-based cloud service has to prove the value of its service to its customers every day, or else lose business entirely to another provider that can do it better. With an on-premise system, however, it's up to the customer to extract value and get what it paid for. This additional benefit is what makes cloud contact centers so attractive.
For our full e-book on safe transition to the cloud download here!