If you are considering globalization of your contact center operations you are probably starting from one of the two primary scenarios that companies experience when going global and expanding to a secondary call center location.
You might already have operations in multiple countries, serving locally your customers using each, for historical reasons, their own set of technologies and applications. You have moved your contact center to the cloud in North America or considering to do it. You are looking at expanding its coverage across the globe.

You also might have customer service operations in North America and are looking at expanding service in other regions.
In both cases,
You are likely to have local resources or not that want to serve out of a single application stack using a consistent set of rules that provide the desired customer experience.

You need to provide local toll free number for your customers to call.

You want to optimize 24/7 service to your customers using representatives in various timezones and/or ensure load sharing.

Maintain consistent quality of the service being provided.
Single Global Cloud Deployment
The natural inclination consist in building or leveraging your cloud platform to serve all associates across the globe and have your local telecom provider secure for your local toll free numbers. It unfortunately can present a few challenges: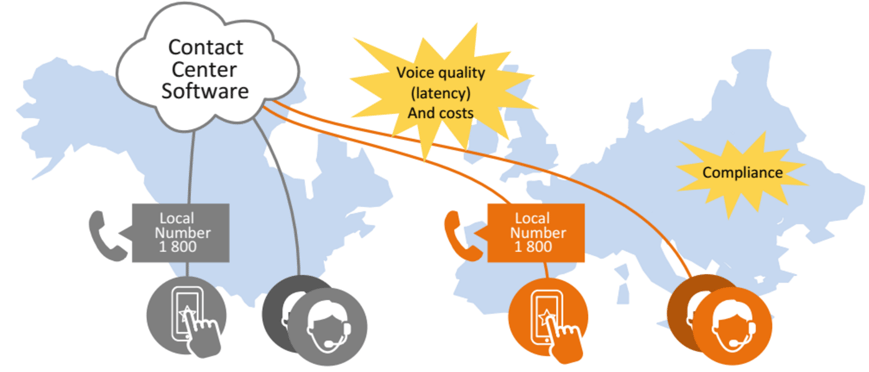 Figure 1 illustrates the first scenario in which a global company decides to have a single contact center software support both locations. This is a very common way to grow globally, because companies can continue to manage all contact center operations in the same software. This scenario also comes with common problems such as; latency in the secondary region, higher cost associated with acquiring local telephone numbers, lack of redundancy/disaster recovery, language barriers, as well as regulatory compliance in the secondary location associated with holding the technology and call data outside of the country.
Let's take a deeper look at these problems:
Latency - With VoIP, each network transit translates into a little voice delay. A round trip is typically under 100ms and is not noticeable. It is recommended that there is a maximum of a 150ms one-way latency in order to maintain the quality of the call. In the above scenarios, calls need to transit through your cloud contact center where treatment such as supervisor listening or simply call recording will take place.
Too many hops between calling customers and agents serving them can degrade the voice quality. Example: Serving calls originating from one region with a data center located in a different region can lead to reduced voice quality. When a client is using standard cloud based contact center solution they have the following problem (See Figure 1): When a representative in Europe is talking with a customer in Europe the total latency could reach 300+ms if the data center is located in the United States. In the telecom industry, callers usually notice roundtrip voice delays with 250-300ms of latency and it is then perceived as bad quality. If a customer in Europe is served by representative in US, latency will be less with one data center deployment configuration.
Cost of Local Telephone Numbers - Because the software for the contact center is outside of the country, it is more difficult to procure local telephone numbers economically.
Lack of Redundancy/Disaster Recovery - A single contact center instance might not be desirable for redundancy and/or business continuity.
Language Barriers - Under this model it is necessary to hire agents in the US that are fluent in the language of the secondary location or hire agents in the secondary location. Hiring these agents in the US can cause language or cultural differences which can lower customer satisfaction. Hiring the agents locally will solve language and cultural problems, but the company with incur double latency for each local phone call terminate after looping to the US.
Regional Regulations - There are certain countries that have very specific laws for data center recordings, trunk connections, and more. In some countries there are requirements to keep recordings and other personal information locally. Brazil for example, is increasing telecom regulatory compliance where media/recordings must not be moved out of the country. Protection of personal data is a huge driving force in Europe. Some telecom providers prohibit trunk connection from another country, for example, NTT and KDDI in Japan. Therefore, you need to have a local data center in Japan in order to comply with their local regulations.
Multi-Cloud Deployments
You might then decide to replicate local clouds deployments, each serving a region or group of countries.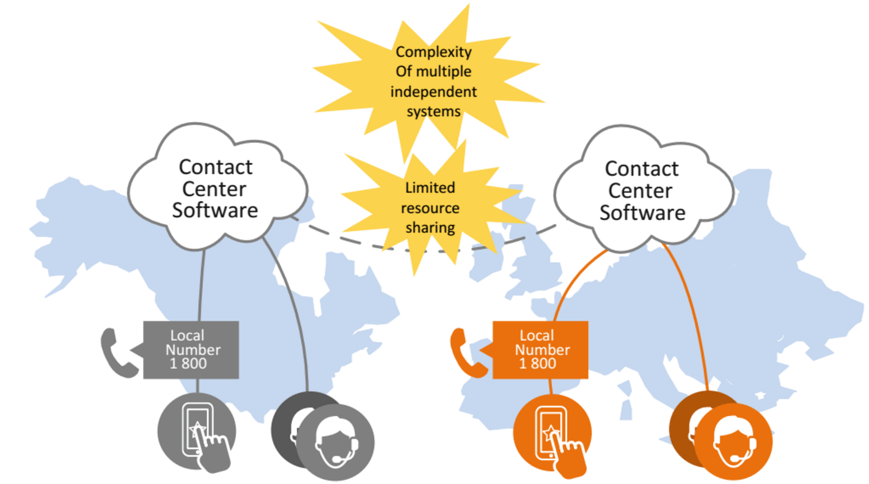 Figure 2 illustrates the second scenario in which a global company decides to acquire additional software to be hosted in the secondary location. This is another common way to globally expand call center operations into a secondary location because it can cure three problems detailed above (latency, cost associated with procuring local numbers, and local compliance), but it has its own hurdle to consider. The main problem to consider with this scenario is the lack of resource sharing that comes with operating two separate contact centers and two separate softwares and maintaining consistent quality of the service being provided, as there is no unified view into the operation, it has to be created separately.
Let's take a deeper look at this operational hurdle:
Disparate services and software will cause information to be siloed. For example, suppose you have a call center in Europe and a call center in the U.S (See Figure 2). These services need to communicate with each other and share data, which can be difficult without the right technology. Under this model you also need separate sets of managers and supervisors at both locations, opposed to having higher management at the primary location overseeing both locations.
As you can see there are many challenges to deploying a global contact center, but in most cases, there are more benefits involved in creating local points of presence with virtual contact centers with local representatives. The promise of cloud solutions is to virtualize contact centers, allowing an agent to connect transparently from any location and take calls from consumers anywhere in the world.
If you are considering globalization, but want to avoid the many challenges, download our globalization guide which explains more advanced models will help you seamlessly provide support using unified management by utilizing the benefits of a single platform in various locations.