If you manage customer service or a contact center, you probably are either looking for strategic guidance on how to meet increasingly difficult goals (customer satisfaction in the age of social media and empowered users), or you already have a plan and now you need independent expertise to help you sell it to your boss and organization.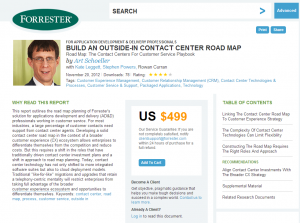 In either event, if you can spare $500, Art Schoeller's new Forrester Research report "BUILD AN OUTSIDE-IN CONTACT CENTER ROAD MAP" is money very well spent.
Here are some highlights, from Albert McKeon's write-up in SearchCRM:
Businesses rely on legacy technology and siloed organizational structures that prevent their contact centers from fully engaging customers.
Take the customer's perspective into account by simplifying the technology they encounter and encouraging collaboration between departments.
Businesses should be able to handle customer email, social media postings and phone calls across multiple channels. Businesses should create ways to transfer those communications between various departments, because this will engender collaboration and improve customer service. How many times do you land on an (800) number, invest time in an interactive voice system, enter information, then have to start all over again?
Many contact centers are breaking away from siloed, best-of-breed components for more integrated software suites. "A lot of this is getting this architecture right," Schoeller explained. "Lots of the time people paint themselves into corners."
Companies should have tools for contact center agents-- as well as their supervisors and managers -- that account for how customers will interact with agents over many touch points.
Contact centers need access to a wide array of business transactions, but old, best-of-breed components break individual transactions across siloed applications.
It's important to "get the right contact to the right agent at the right time with the right data." To do this, companies need to properly identify a customer. "Who are they, and what do they want?" It's also important to know what the customer wants, what sort of transaction they want to conduct, and to stop having them reenter data at touch points.
Don't overlook the human element. Be selective about which applications end up on an agent's desktop. For many companies, the trick is to limit applications and keep it simple.
Schoeller says integrated contact-center suites aren't yet a reality. There are no comprehensive suites that cover all of a contact center's cross-channel needs. Companies should employ a consolidated approach that aims to reduce the number of vendors -- and integration pain points -- to contend with, he said.
We agree wholeheartedly with Art...except for the very last point. But we can't blame him for that. Bright Pattern has been in semi-stealth mode as we have been putting the final polish on the ServicePattern platform that was designed form the ground up to do exactly what Art prescribes. If this is a race to improve customer satisfaction while improving productivity and saving money, ServicePattern is in the pole position. The platform will be available soon and the race will be on.