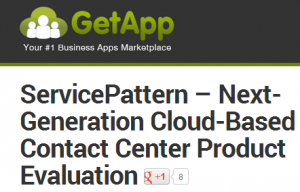 GetApp, a large, independent, online marketplace dedicated to helping businesses discover and evaluate business applications has delivered a product evaluation for ServicePattern(TM), our cost-effective next-generation cloud-based contact center platform for effective customer experience management.

"Companies are increasingly using multiple channels to engage with their customers, including social media, call centers, live chat, email, and websites, but many are still finding it a challenge to integrate these channels to provide an efficient contact center solution," said GetApp CEO, Christophe Primault. "ServicePattern is a cloud-based contact center platform that solves this problem by natively supporting multiple customer engagement channels."

In an Aberdeen Group report from May 2013 titled, 'Building the New Database of Intentions with Real-Time Marketing Analytics', analysts claimed, "if a business doesn't provide a remarkable, personalized experience, the chances are that its competition will. This requires the ability to aggregate interactions and behavior across myriad channels and touch points in real-time."

"Our analysis of ServicePattern's offering evaluates the platform against industry challenges and traditional solutions. Unlike older generation call center solutions, next-generation cloud-based platforms treat all customer engagement channels equally with regards to configuration, reporting, and features so it can produce standardized data that enables big data analysis to better monetize customer experience data. The bottom line is that it gives a higher return on investment on contact center spending," said Primault.
Konstantin Kishinsky, Co-Founder, and CEO of Bright Pattern, of San Bruno, California, the technology vendor behind ServicePattern, responded that "a native multi-channel cloud platform is the only viable option to provide this personalized, and unified, customer experience. ServicePattern provides a means to gain a competitive edge."
The ServicePattern evaluation report covers:
Business needs of contact center platforms
Customer profiles for the contact center industry
Key differentiators of ServicePattern
Pricing
Product features
Specifications
Final assessment and recommendations
GetApp's evaluation report finds that ServicePattern is a compelling choice for companies that want to invest in a modern contact center platform.
GetApp considers that the following features make the platform stand out in the contact center market:
Highly scalable platform
Quick setup and easy to customize
Native multichannel support
Unified customer experience across multiple channels
The full analysis is available at https://www.getapp.com/blog/bright-patterns-servicepattern-next-generation-cloud-based-contact-center-product-evaluation/
GetApp has reviewed the solution based on an independent evaluation script in order to validate and/or disprove the vendors' claims. The script was specifically prepared to assess key functionalities and to inform an impartial review of this comprehensive contact center platform. The evaluation was completed by Articulate CEO and Forbes business contributor, Matthew Stibbe.