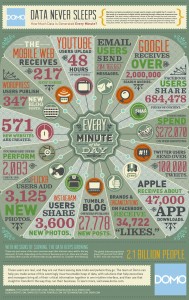 This fascinating infographic from Domo, a real-time data analytics firm, shows just how busy consumers are with social media, mobile apps, and content creation.
The graphic clearly shows the need for contact centers to become mobile and social enabled to better engage and respond to consumers, who are out there liking, tweeting and tumbling about your brand.
Talk to us today about how to enable your contact center for multiple customer engagement channels.