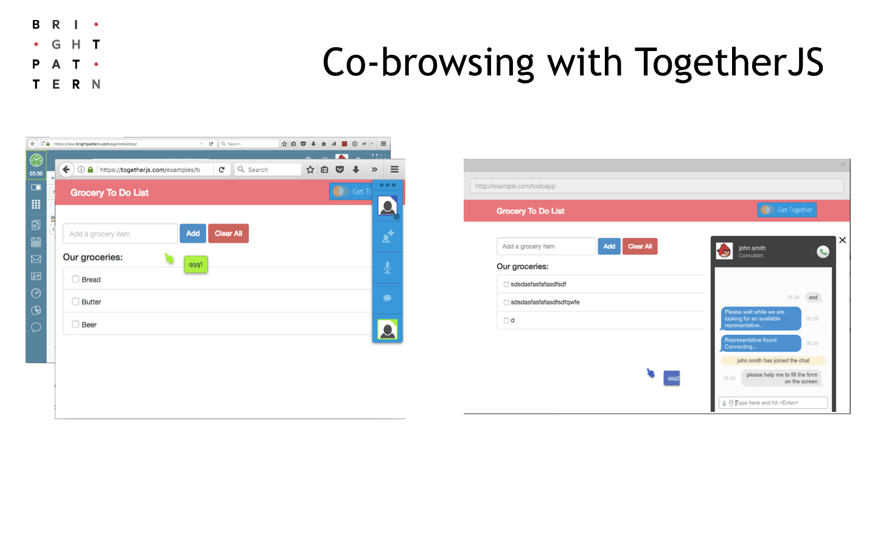 With the rise of online self-service and online shopping, more customers are trying to answer questions and make purchases without utilizing a live agent. But, the largest inefficiency with self-service is the loss of a sale or poor customer experience if the customer cannot find the information they need.
With live collaboration tools, agents can proactively engage with customer to improve their experience. Co-browsing allows the customer to share their screen in real-time with a live agent. Making it easier for the agent to solve any shopping cart inquires or technical questions.
The benefits of co-browsing are extensive whether you are sales or support, an agent or the consumer. Below are just a few of these benefits:
Improved Customer Experience and Reduced Customer Effort -

hands on assistance can help improve the customer experience with sales navigation, form completion, checkout process and many other case example you see in the contact center and customer support center. The live collaboration speeds up the interaction, reducing customer effort.

Improved First Contact Resolution:

There is a lower chance channel escalations because questions are answered in a more timely manner.

Reduced Cart and Web Form Abandonment

: If customers are unable to find the information they need they will abandon their cart or leave the site. Live collaboration can decrease abandonment and average handle time.

Increased Online Conversion and Value Size

: Co-browsing will increase online conversion and company ROI due to the decrease in cart and web form abandonment.

Greater Average Order Value and Enhanced Lifetime Value:

With a better customer experience, customers are also more likely to spend more per transaction and become lifetime customers enhancing their lifetime value.

Maximized Agent Productivity:

Co-browse can empower agents to proactively engage with customer to further improve the customer experience. Provide your agents with the tools necessary to personalize the way they assist customers.
Elevate your contact center to the next level by providing your agents with updated technology and live collaboration tools like co-browsing.
Bright Pattern co-browsing functionality allows agents to see exactly what the customer is doing on your site in conjunction with our other channels such as voice and chat. Read more about co-browsing and other
new features
on the Bright Pattern platform.