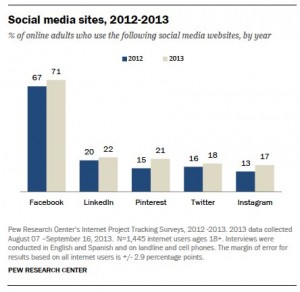 New data from Pew Research confirms that social media is no longer just for youth. Some 73 percent of online adults now use a social networking website of some kind, and some 42 percent of online adults now use multiple social networking sites.

Pew Research released its Social Media Update 2013 report on December 30th based on sampling surveys with thousands of adults last year.

The report notes that 71 percent of online adults are now Facebook users; the site dominants others like LinkedIn, Pinterest, Twitter and Instagram, in terms of adult usage.

Facebook and Instagram exhibit high levels of user engagement - the majority of users surveyed say they check into these sites on a daily basis. Facebook enjoys multiple visits per day from 40 percent of those surveyed and the comparable number for Instagram is 35 percent.

Women are bigger Facebook users (76 percent) than men (66 percent), and, perhaps unsurprisingly, Facebook usage is dominated by the 18 to 29 age group (84 percent) followed by the 30 to 49 cohort (79 percent), the 50 to 64 cohort (60 percent) and the 65+ cohort (45 percent.)

All in all, the report provides good data for marketers understanding shifts in the social media landscape. For those looking at how to integrate social media into their contact center, and why, watch our recorded webinar with Mike Ellsworth of Social Media Performance Group.