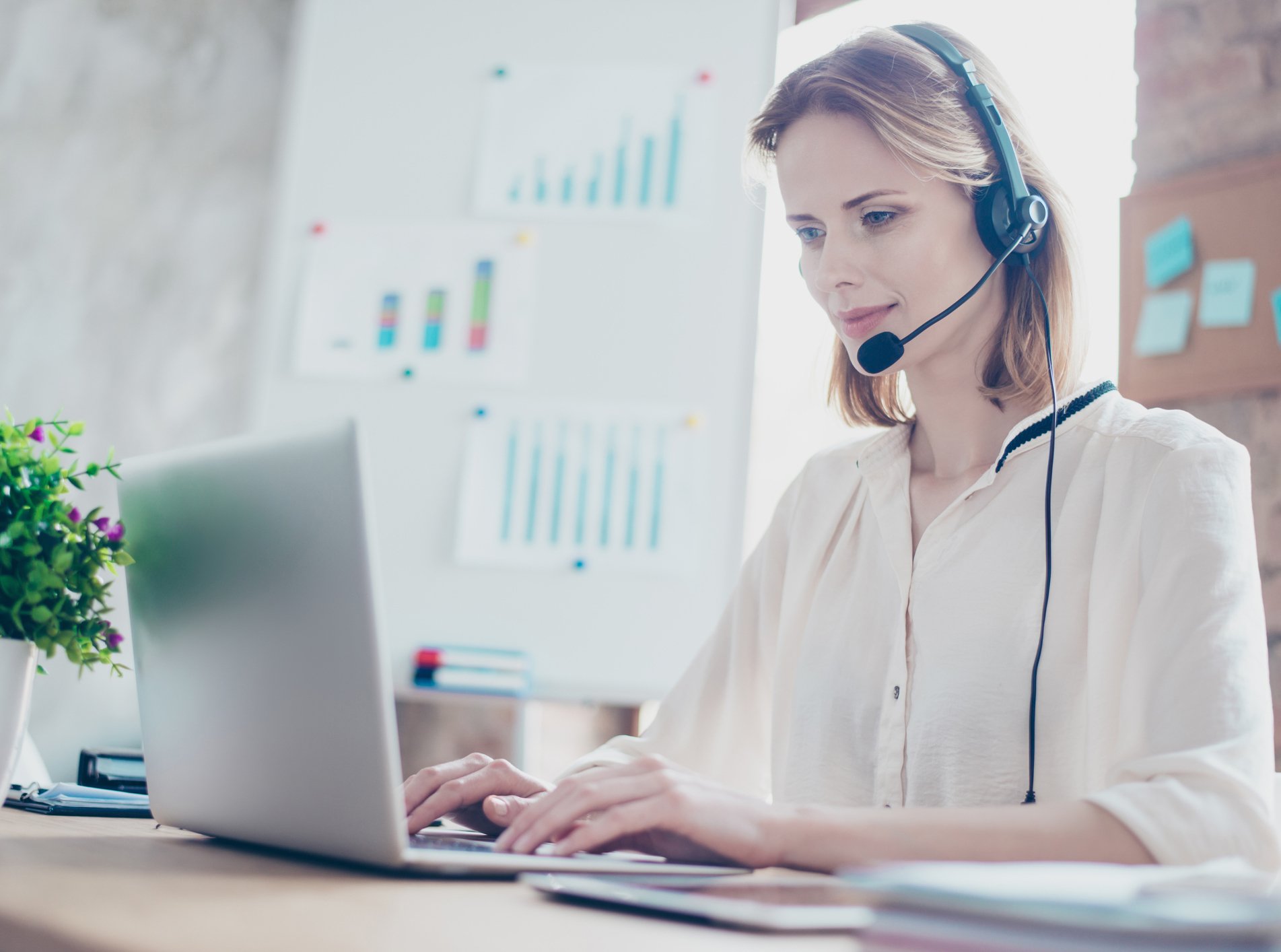 Whether you are a large or small organization, you likely have sales and customer service representatives reaching out to customers and prospective customers on a daily basis with call center software. Larger organizations operate enterprise customer service operations with numerous inbound and outbound agents housed in their call centers, while smaller companies have a small subset of employees who may not even refer to their team as agents in a contact center or customer support center.
No matter your size, industry, or call center goals, the call center solutions used and the features included in that software are critical to providing outstanding customer experiences. It is important to have the features and capabilities necessary to reach your contact center goals today and also in the future.
What is Call Center Software: What Does it Do and What Are Common Call Center Software Features?
Voice Call Center Software
Historically, call centers were voice-only inbound and outbound operations for sales and customer service. They were deployed on-premises using private branch exchange (PBX) equipment. This was a large investment in technology and an inbound IT team managed and maintained the call center software in-house.
PBX systems then began to support Voice over IP (VoIP) and call center software was created to include automatic call distributor (ACD) functionality to distribute incoming calls to the representatives. An additional call center software feature called interactive voice response (IVR) was created to automate some of the agents' calls through self-service by allowing callers to enter numbers by touch tone (e.g., "Press 1 for English") on their phone's dial pad.
At this time, voice was the primary channel for speaking with customers and prospective customers and the call center was split into two sections: inbound calls and outbound calls. Outbound calls are primarily sales-related calls, whereas inbound calls are typically customer service calls and new sales calls coming into the call center—think direct response TV advertisements where customers will call the number on the screen.
Technology Used in Call Centers
Outbound Call Center Software Features
Call Center phone systems feature four different types of outbound dialing modes. Manual mode allows agents to call numbers in an outbound list manually. In preview dialing mode, the agents are provided a list of calling records in the campaign and can preview the record before dialing manually. This process can be automated further in progressive mode and predictive mode. With progressive and predictive dialing campaigns, the software automatically dials the numbers in the list for the agent, monitors the call progress, and connects the agent if the call is answered.
Outbound call center software also includes extensive list sorting and filtering (complete with drag-and-drop functionality), call scheduling during optimal calling hours, automatic verification with right party contact, dynamic caller ID assignment, and accurate call progress analysis and answering machine detection.
Inbound Call Center Software Features
Arguably, the most important feature for inbound calls is the automatic call distributor (ACD), which is the routing engine that gets the incoming calls to the appropriate agent. The ACD can automatically route the call to the correct agent based on a combination of interaction properties, agent properties, and rules. For example, if a call center handles different languages, skills-based routing can be set up to deliver Spanish-speaking callers to agents proficient in speaking Spanish, and French-speaking customers to French-speaking agents. In addition, companies can set rules around the type of interaction or status of the caller. Priority routing can be set up for "gold customers," for example. Tracking customer service calls is also easy with call center reporting and analytics, including real-time agent and supervisor dashboards and wallboards.
Automatic customer relationship management (CRM) screen pops are also a must-have feature for inbound call centers. Most midsize and enterprise companies integrate their call center software with their preferred CRM. For example, a company with a Zendesk call center software operation would integrate their contact center software with Zendesk to help agents seamlessly access caller information via screen pops, which automatically "pop" customer data, such as contact information, to the agent's screen upon accepting the call. CRM integration provides agents with single sign-on, data-driven interaction routing, activity history, click-to-call functions, and the often-requested screen pops.
Inbound call center software also includes full call control from the agent's browser, call transcription, dropped call conversation continuity, virtual queue with callback options, and pre-recorded message playback.
Omnichannel Call Center Software
The biggest change in the call center industry has been in the way customers want to communicate with their favorite brands. As consumers have become more mobile, they have adjusted the way they talk to family and friends by using new media channels like text messaging, social media, and messengers. In the same way, they also want to be able to reach out to companies on a variety of channels, not just traditional channels like voice or email. Millenials and younger generations grew up on these channels, and as they became consumers, companies needed to support this shift. This change in communication style led companies to consider whether they should implement contact centers versus call centers and multichannel software or omnichannel software.
Multichannel contact centers offer additional channels on top of inbound and outbound voice, but these channels remain siloed. In a multichannel system, customers can communicate through all available channels but agents are segmented in the contact center by channels. Switching between channels can be frustrating for customers because they are required to repeat information to a different agent.
Omnichannel contact center software brings together all channels into a single unified system. Agents can handle more than one type of interaction at a time and customers can easily move between channels. For example, if a customer is talking with a representative through web chat but wants to speed up the conversation, he or she can seamlessly escalate the chat to a voice call with the same agent. Although voice remains the no. 1 channel for most contact center operations, other channels continue to grow.
See how Bright Pattern can help you with your omnichannel digital transformation!
Call Center Software by Company Size
Enterprise-Level Call Center Software Functionality
Enterprises require mature call center software with enterprise-grade features and functionality.
What makes a call center solution enterprise-grade?
High Availability and Reliability—Availability refers to the amount of time the software is in functioning condition. For example, when some vendors do software upgrades, they experience planned downtime where users are unable to log in and use the software. Reliability is the combination of highly available and redundant systems, where components or system functions are duplicated for failure or backup purposes. Highly available and reliable software ensures that users and customers can access the software even if there is a disaster. Enterprise software allows constant customer communications with advanced microservice architecture and disaster recovery.
Scalability—Enterprises need the ability to scale their contact center to thousands of concurrent users to support uninterrupted growth.
Compliance—Security for PCI, TCPA, and HIPAA are necessary for most larger contact centers that process credit cards, work with sensitive information, or do outbound sales campaigns.
Security—Network security and data protection is a must for enterprise customer communications. Large corporations have mountains of customer data, so it is important to have strong security options within the software.
Small business call center services and midsize contact centers can also utilize call center software. With the emergence of cloud-based contact center technology, it has never been easier or more cost effective for small to midsize businesses (SMBs) to deploy and manage call center software as feature-rich as enterprise contact centers.
How Much Does Call Center Software Cost?
Call center software pricing varies dramatically depending on the vendor you use and the features available. Cloud call center software is usually more affordable and paid monthly by the number of concurrent agent seats. This allows companies to pay for only what they use with no large capital expenditure up front. Omnichannel contact center software can also save you money by decreasing the amount of separate software applications used to provide all the channels your customers are using. For example, it is more affordable to use one software for voice, email, and chat, rather than three different ones to achieve the same effect . Contact center pricing can also be affected by professional services. Some technologies are hard to maintain and require a lot of professional services. It is important not only to understand the cost of the software, but also onboarding fees and professional services fees.
Call Center Software Gartner and Ovum
There are many industry analysts that rank call center software to help companies determine the best software for their contact center. See how Bright Pattern Contact Center software compares to others in the following reports and rankings: